Snowmen, golden glitz and glam, and augmented reality are among the festive touches you'll find in this season's holiday window displays.
Checking out holiday window displays has been a family tradition for years—one that my siblings and I still partake in after almost 3 decades. There's something awe-inspiring about all the whimsey that exudes from the creative displays around the city. Some displays remind me of things that we did as children and others motivate us to lean into the magic that this season radiates.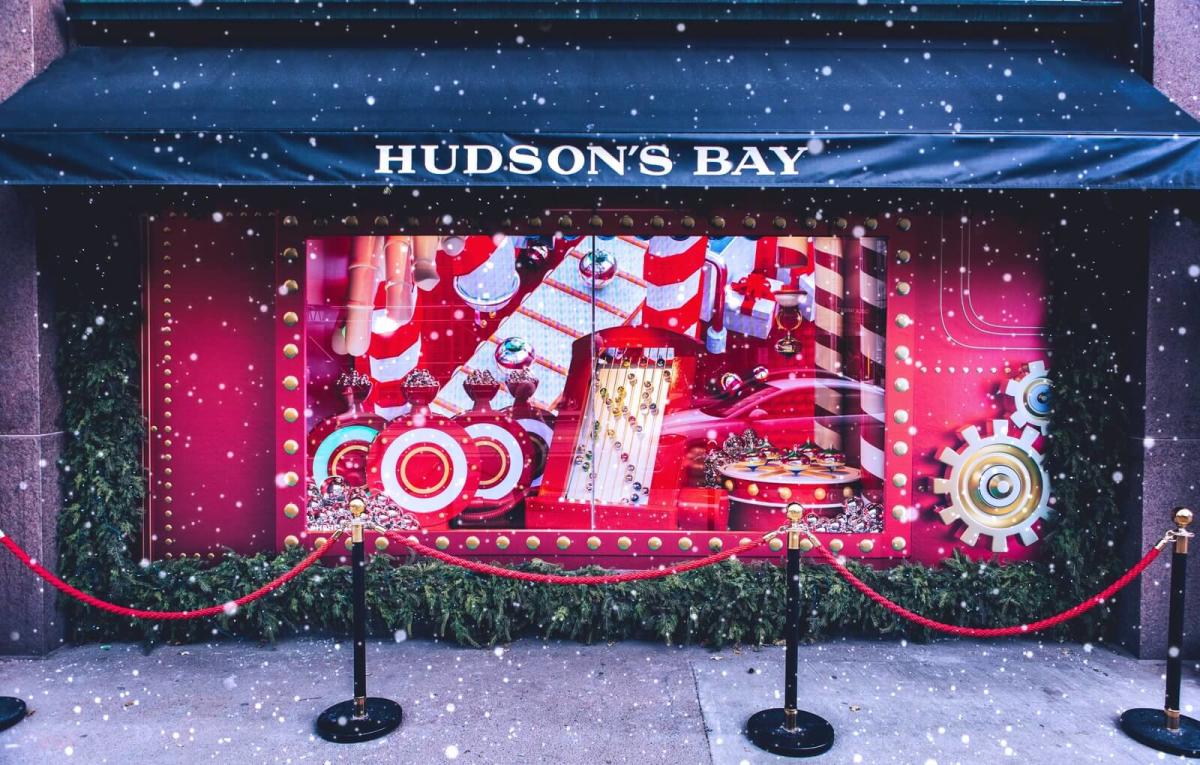 So, if you're like me, my family and my loved ones, and want to see all the best holiday windows for yourself, here's how you should get started.
Fairmont Royal York
Address: 100 FRONT ST. W.
These are, by far, some of my favourite displays in the city. The detail and attention that is put into each window are hard to beat. Gold dominates as the primary colour of the displays, each window slightly different from the next but still playing really well together. If you're into dazzling twinkling displays like I am, you're going to love what they have in store this year. 
Hudson's Bay
Address: 176 YONGE ST.
One of my favourite winter holiday activities after skating at Nathan Phillips Square is crossing the street to see what Hudson's Bay has in store for their holiday window displays. This year's theme of 'Behind the Scenes at Santa's Workshop' does not disappoint. 
They always find a way to capture the spirit of the season in a wonderful way. From adorable snowmen making snow angels, to robotic arms making and moving candy canes and presents off conveyor belts, this year's theme is no exception. One of the windows shows the behind-the-scenes of Santa's workshop where children's names are being printed on the list.
Holt Renfrew
Address: 50 BLOOR ST. W.
This is where we go for all the glitz and glamour of the season, and I'm never disappointed. Holt Renfrew really knows how to create displays that dazzle with elegance but still pay homage to the holiday season. With a coffee and a stroll down Bloor Street, with all the twinkling lights is the perfect recipe for a romantic date. 
Kate Spade
Address: 138 CUMBERLAND ST.
There's a lovely whimsical vibe to Kate Spade's holiday window displays. Located a quick walk from Bloor and Holt Renfrew, and nestled cozily in Yorkville, Kate Spade's holiday window displays are just as fun as the brand itself. What I love about Yorkville this time of the year is that neighbourhood really steps into the holiday season with a bang.  
Make sure you grab a drink or bubble ice cream at S'cream Ice Cream + Coffee if you want to make the most of your time exploring this charming area. 
Junction Window Wonderland
Location: Along Dundas Street West, west of Keele Street
A new type of holiday display that uses technology to enhance the traditional holiday window displays, Window Wonderland exhibition transforms the Junction neighbourhood into a magical and interactive outdoor gallery.
What I love about this exhibition is that it showcases local artists and animators who have painted 10 storefront windows brought to life by Augmented Reality (AR). It is one of the more unique interpretations of holiday window displays, but so worth checking out. The exhibit is on from November 14, 2020, to January 31, 2021. 
---
Holiday window displays are such a wonderful way to embrace the festive season and I love seeing all the creative efforts that go into bringing these visions to life.