The Fringe Festival is a Toronto institution. Since its launch in 1989, it has been reeling in crowds of veteran theatre-goers and first-timers alike with its lively and accessible approach. What begins with theatre, however, can end in a discovery of some of the city's coolest spots.
Each July more than 30 off-the-beaten-path venues open their doors to usher in culture junkies in search of the city's most unique theatre experience, the Toronto Fringe Festival. Over the course of this 12-day-long celebration of the stage, Fringe mounts more than 150 performances, each with a ticket price lower than what it costs to see a first-run movie. But Fringe is more than just theatre — it's your pass to Toronto's coolest venues, bars, restaurants and neighbourhoods. Read on to find out where this festival can take you.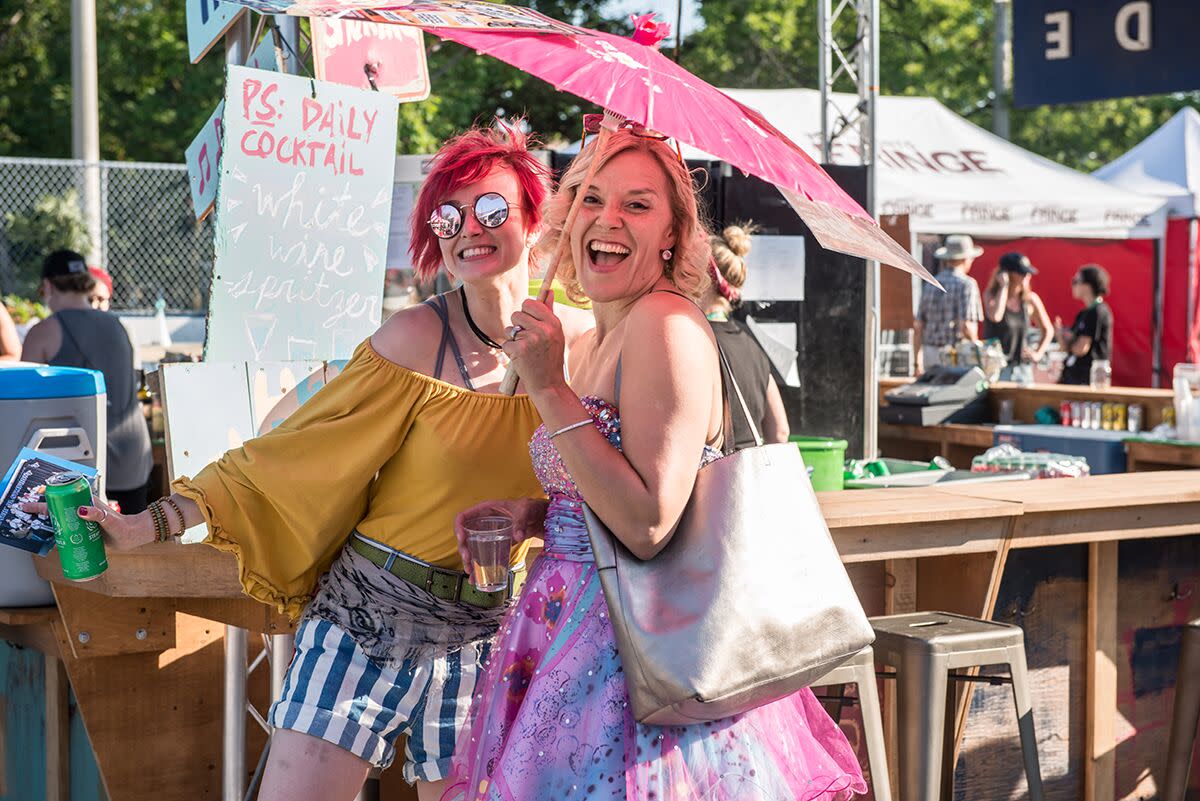 The Annex's Eclectic Streets
Bordering the University of Toronto's expansive campus, this neighbourhood is popular with students thanks to its great selection of used bookstores, affordable pubs and sun-soaked patios. Consider the Annex the hub of everything Fringe, with venues sprinkled top to bottom across the entire community. Theatre-goers in the north end of the neighbourhood should treat themselves to an unforgettable meal at Fat Pasha's or Chadwick's Craft Kitchen and Bar (where even the condiments are made in-house). Further south on busy Bloor Street, ramen, sushi and izakaya dominate the dining options. Grab an ice cream at Greg's and wander the tree-lined side streets for a look at some of the city's beautiful old homes (while keeping an eye out for the Annex's most famous resident, Margaret Atwood).
Nearby Fringe Venues
Tarragon Theatre, Tranzac Club, Miles Nadal Jewish Community Centre, Trinity St. Paul's United Church, George Ignatieff Theatre, Randolph Theatre and Annex Theatre.
Kensington's One-of-a-Kind Vibe
Kensington Market holds a special spot in the heart of Torontonians. The ever-evolving neighbourhood is home to bakeries, cheesemongers, vintage shops, tattoo parlours, and some of the best (and most affordable) food in the city. In the mood for a Trinidadian double, an Argentinian empanada or a Jamaican patty? Kensington has it covered. Grab an ice-cold pint on Ronnie's patio between shows, search for vintage treasures at Courage My Love, Bungalow, and Exile and make sure to hit up Market 707 on Dundas for street food served out of colourful converted shipping containers.
Nearby Fringe Venues
Supermarket, Scadding Court Community Centre and The Monarch Tavern.
Tour the heart of "Fringe Alley", and hear all about the history of the festival with the "Started at the Fringe" audio tour!
The Core's Artsy Heart
Central Toronto is far from being all business. Contrary to the concrete jungle stereotype, the city's core is home to a surprising number of green spaces (you just have to know where to look). Head to the north end of John St. to visit the newly redone Grange Park, one of the best in the city. The park backs onto both the Art Gallery of Ontario and art school OCAD's Instagram-worthy architecture. Further west, you'll find Fringe venues with neighbours like Queen West's vibrant Graffiti Alley street art destination, live music venues like Velvet Underground and high-end restaurants like Aloette and Alo, voted Canada's best restaurant (do NOT skip desert here).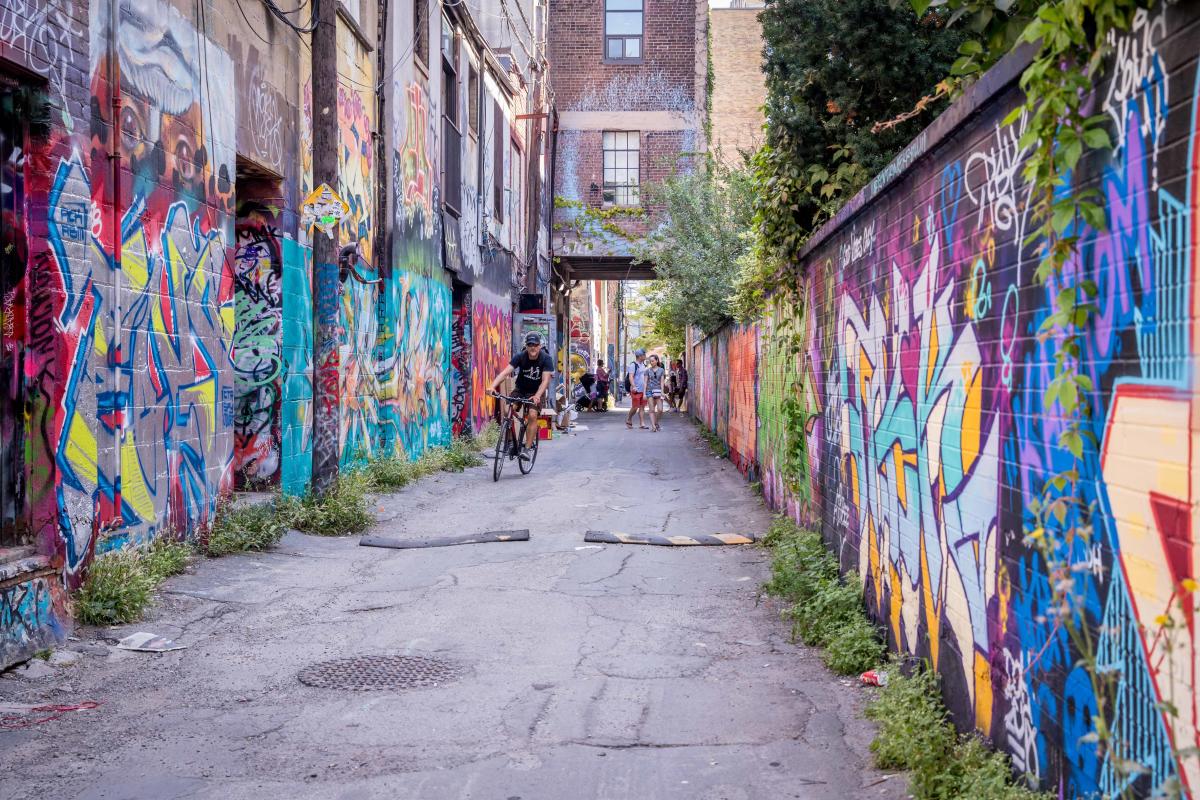 Nearby Fringe Venues
Theatre Passe Muraille, St. George The Martyr Courtyard, The Textile Museum of Canada, Imperial Pub, Grace Toronto Church, Factory Theatre, and 401 Richmond.
Chinatown's Endless Food Options
Wedged between Kensington Market and the core, Toronto's Chinatown (one of two in the city) is a foodie paradise. Restaurants dominate the neighbourhood's main thoroughfare, Spadina Avenue, offering up steaming bowls of pho, rotating platters of dim sum, Mongolian hot pot, spicy Cantonese noodles and barbeque and grab-and-go Vietnamese banh mi sandwiches. Hungry yet? In between snacks, check out the area's quirky mix of shops to find serious deals on everything from kitchenware and spices to jade jewelry and cartoon character phone cases.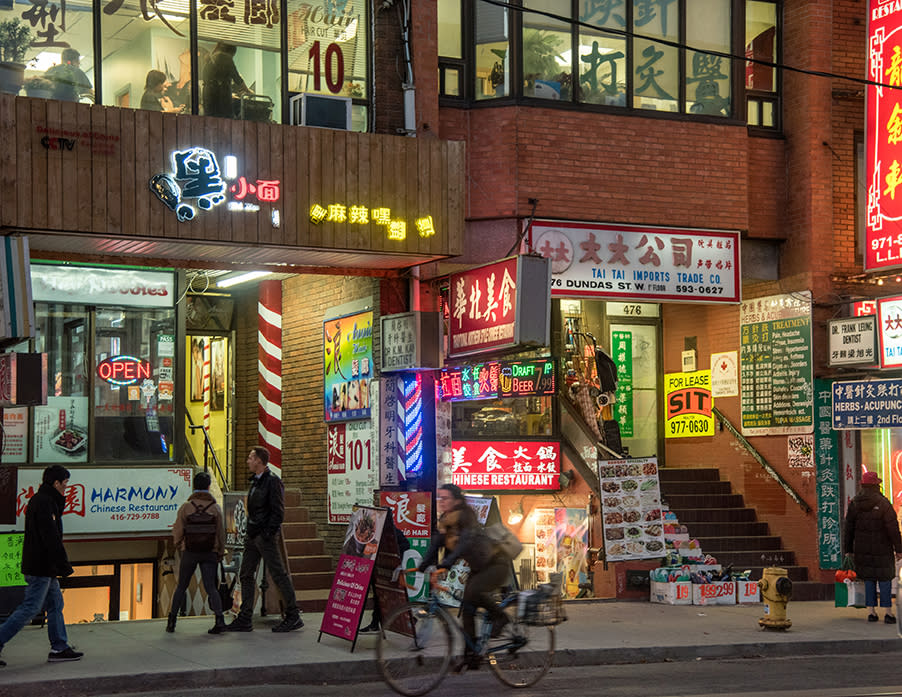 Nearby Fringe Venues
Al Green Theatre, St. Vladimir's Institute, Helen Gardiner Phelan Playhouse, and Robert Gill Theatre.
Download your Fringe Program Guide to find out everything you'll need to know about the festival including shows, tickets and venues.
The East End's Craft Beer Scene
From the Danforth's Greek Town all the way south to Queen Street, the east end of Toronto is cultivating a craft beer scene to rival that of its crowded west-end competitors. For fresh-made pub-style food and one-of-a-kind brews ranging from stouts and IPAs to sours and saisons, pull up a stool at Saulter Street Brewery, Radical Road Brewing, Rorschach Brewing Company, Godspeed Brewery or Louis Cifer Brew Works. Dog lovers unite at Black Lab Brewing's pooch-friendly space for pints of Li'l Hobo Hefeweizen and Exploding Kittens IPA. On-site bottleshops mean that travellers to Toronto can take home the best kind of souvenir: more beer.
Nearby Fringe Venues
Streetcar Crowsnest Theatre, Paintbox Bistro, 74 Jones Ave, Eastminster United Church and Sarah's Cafe.