As summer gets underway, all domestic markets continue their strong recovery, holding their positions in the green zone, with data through the end of June. The U.S. market continues to show strong signs of recovery while inflation remains a top concern among these travelers. International markets also continue to exhibit growth, but lag behind domestic & US markets.
Covid-19 health restrictions have almost been completely lifted except in some limited indoor settings. Customer Readiness remains high, with welcomeness for regional & US travelers at its highest rate since the pandemic began, coupled with steady growth in international visitation sentiment. Partner Readiness is also at its highest level since the pandemic began with air-capacity approaching or exceeding 80% of pre-pandemic levels in most markets*.
Search interest for Toronto continues to grow among Canadian internet users, and is also at its highest since the pandemic began, as reflected in the monthly Google search index. The search interest reported in April translated to visitor volume with estimated visitation to Toronto, by domestic travelers, surpassing 50% of 2019 levels, for both March & April 2022. The data for May & June visitation is pending but performance is expected to exceed April given current trends. Overall, domestic travel to Toronto is showing strong signs of recovery this summer.
U.S. & international market readiness is at an all-time high since the pandemic began. Increases in air-capacity have greatly improved the Partner Readiness factor while Access Readiness remains high.
Despite strong signs of recovery, as most industries adapt to labor shortages and consumer demand evolves due to inflationary pressure, we remain cautiously optimistic about Toronto's Tourism recovery. New variants continue to be a concern with growing infections across Canada. Monitoring customer and partner readiness, as well as public health advice, will be a priority as we navigate the path to full recovery.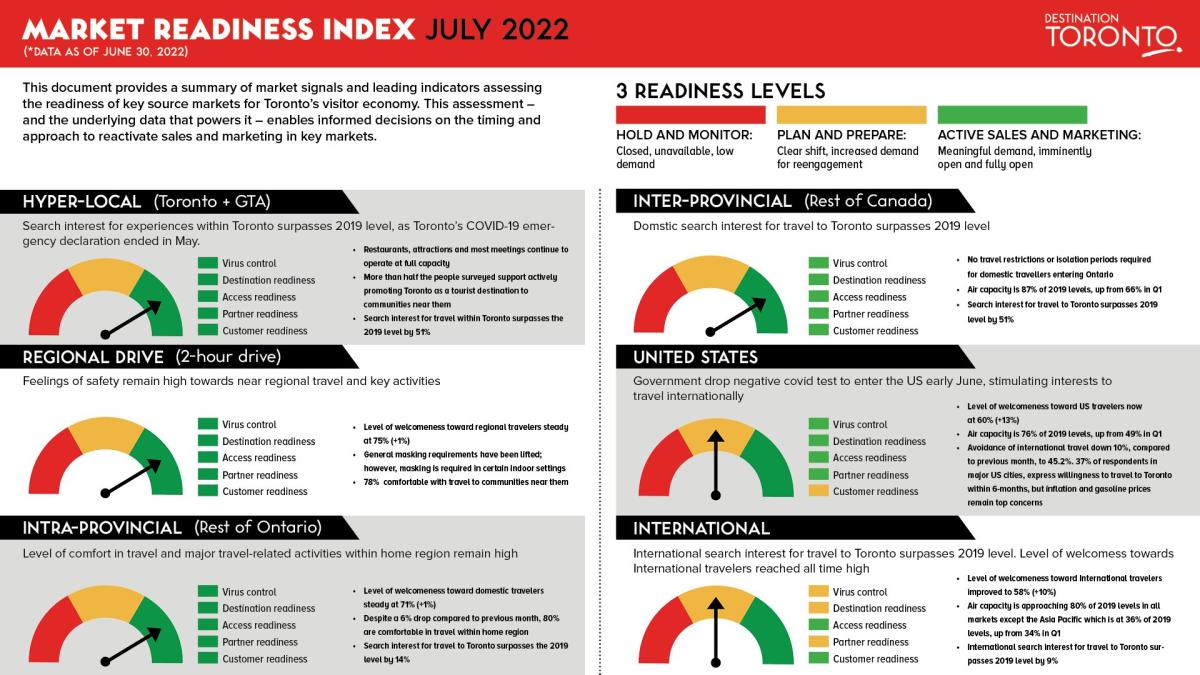 * Asia-Pacific being the only exception with lower air-capacity (36% of 2019)