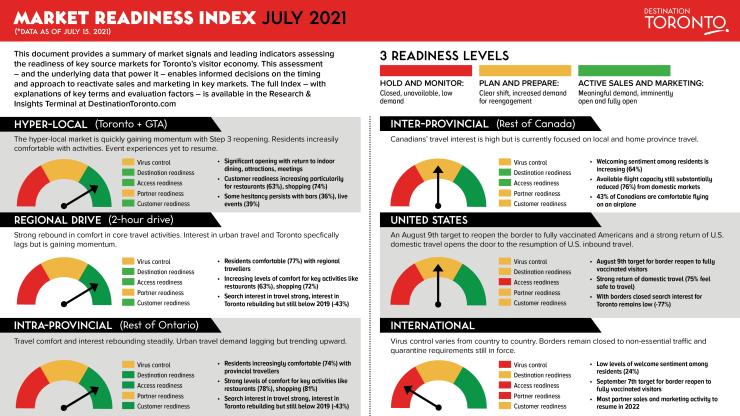 The summer season has indeed turned Ontario green. In our colour-coded Market Readiness Index, this update certainly contains the most green we have seen in the index since launching it last summer, driven by a combination of shifts in both policies and perceptions.
On the policy side, Ontario's move to Step 3 of its reopening plan brings the return of indoor dining as well as the ability for attractions and meeting venues to open (with capacity limits) and the resumption of live events including concerts, theatre and sports. The availability of a wider range of experiences in Toronto sees the Destination Readiness move into green for the first time since the start of the pandemic.
These openings are followed by the announcement of the border opening, first to fully vaccinated American travellers on August 9, and later to international travellers in early September. While it's too early to move the U.S. market into green as the border remains closed for several weeks, it does shift into yellow to indicate the fact there is a clear timeline and path to reopening of that market. Within the U.S., the strong rebound in domestic travel points to clear state of willingness to travel by Americans.
On the perceptions side of the readiness evaluation, Canadian consumers are showing a discernible shift toward greater comfort with key travel-related activity, including dining at restaurants, shopping and, importantly for longer-haul domestic markets, air travel.
This combination of factors moves all of the provincial sub-markets – hyperlocal, regional and intra-provincial – into the green category, indicating they are viable visitor markets now. It is important to note, however, that while an uptick in leisure travel is likely in the near term, key segments for Toronto including major meetings and transient business travel are likely to resume at a slower pace.
A new one-page summary of the Market Readiness Index is available here as well as the full index with a deeper level of supporting data here. In the data details, look for the various symbols  to indicate data points that have moved to different colour levels, either up (improved) or down (worsened). The Index will remain updated on a monthly basis, or more frequently when key data is available.