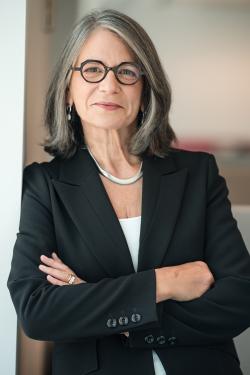 TORONTO, July 26, 2023 — Destination Toronto today announced Rekha Khote, CEO, MK2 Hospitality, as Chair of its Board of Directors. Rekha was elected by the Board of Directors, the slate of which was approved on June 8, 2023 at the 98th Annual General Meeting at The Royal Conservatory of Music's Koerner Hall. 
"Rekha's passion for Toronto's tourism and hospitality community combined with her business acumen make her a natural choice to fill the leadership role of Chair," said Scott Beck, President and CEO of Destination Toronto. "On behalf of our entire destination, I'd like to express my gratitude to Rekha and the entire Board of Directors for their volunteer leadership and dedication in ensuring our organization's focus and strategy continues to grow the impact of the visitor economy in Toronto." 
With a distinguished tourism career that includes executive leadership at Starwood Hotels and Delta Hotels & Resorts, Rekha has board and committee experience at the Metro Toronto Convention Centre, Greater Toronto Hotel Association, George Brown College, and Destination Toronto, serving as Chair of its marketing committee. As the co-founder of business consultancy MK2 Hospitality, Rekha gives back to the tourism and hospitality community by mentoring senior level women in the industry to achieve their career goals.
"I'm honoured to accept the role of Chair and to serve the Toronto tourism and hospitality community as the industry continues its recovery," said Rekha Khote, Board Chair of Destination Toronto. "Toronto is an incredibly diverse city with an inclusive culture that is tangible to our visitors. It's what makes this city so special. I look forward to working with our members and the Toronto community to share our story and welcome visitors to our beautiful city."
In addition to the formal business of the 98th Annual General Meeting, the 2022 Annual Report was presented by staff and attendees received a live performance of Cultures Remix, featuring Ontario's 1st Poet Laureate and Artivist Randell Adjei, and dancer and Founder of Sapphenix Movement, Kimberly Anne Beckles. 
Media Contact:
Kathy Motton
Destination Toronto – Senior Communications Manager
416-721-9203