Celebrate the season, beyond the usual turkey and mashed potatoes with this year's holiday feast kits.
It surely has been a year like no other and this holiday season will surely be no different! Now that many of us are celebrating together yet apart, folks are finding new ways to commemorate the season and one of those ways has been through food.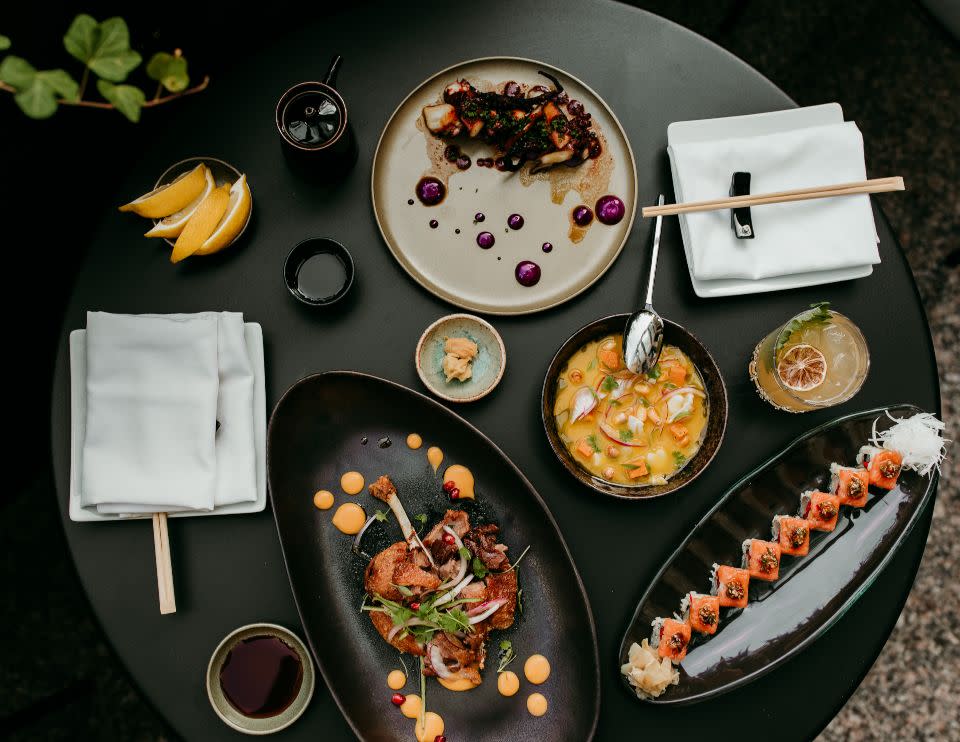 Food is the ultimate connector and the sensation of taste is bound to our memories. Plus, the options for takeout and delivery these days are nearly endless when it comes to holiday-ready, celebration-worthy meals and dessert that are primed to be an epic gift, for yourself to enjoy or send out as a token of appreciation. 
Here are several restaurants and food businesses (in no particular order) that are offering memorable festive dinners and meal kits for celebrating the holidays at home. 
Note: All of the establishments listed and menu offerings were current at the time of publication. Please contact them directly to confirm hours and services to avoid disappointment.
Elle Cuisine
This powerhouse catering company can do it all. From prepared meals to baked goods and grocery items, to accompanied experiences with live virtual cooking classes. Elle Cuisine always has a finger on the pulse between what's trending and the perfect comfort food for any moment.
What to order: Multi-course menu meal kits are ready to be customized to your needs. There are many packages to choose from but the lineup of Gingerbread House kits (ranging from classic to one in the shape of the Toronto skyline!) are completely eye-catching as a sweet and fun activity or gift.
Cold Tea
Cold Tea is a beloved cocktail bar in Toronto where folks have been known to drink, eat, play music and be very merry. Also known for crafting made-to-order cocktails that satisfy every palate, Cold Tea has come out with a package that makes it easy to get into the spirit by covering all the holiday bases.
What to order: The COLD T(REE) Package includes a fresh cut white spruce Christmas tree, a bespoke cocktail kit for 2, half a dozen holiday cookies, a festive playlist by Mike Roc and a donation in your name to the Change For A Hundred Initiative.
Speducci Mercatto
A fine food emporium, open since 2015. Now with their online grocery delivery service, Bottega by Speducci, it's just a click to recreate their beautiful Italian fare at home and order up Italian comforts. 
What to order: Standouts include the range of salumi, freshly made pasta, cheese and hard-to-find edible items that are both local and from Italy. The selection is vast, so to narrow things down: there's a Holiday Dinner Box with slow-roasted turkey and all the fixings and even a Truffle Feast kit, plying you with every truffle and truffle-infused item you would need to take celebrations up a few notches.
Patois 
Patois has been a mainstay on Dundas West for years with their memorable Caribbean meets Asian soul food and drink. You'll find that items like The Chinese "Pineapple" Bun Burger come around and stay on the menu for years with a few twists, of course. 
What to order: Patois is thinking of everyone! With the Full Pack, Half Pack and Veggie Pack, Patois is offering 3 different platters to cater to your needs, while still hitting all your menu favourites. Some of the hits include Juicy Jerk Chicken (or Jerk Butter Roasted Broccoli & Cauliflower), Jamaican patties, Trini Mac Pie, Fermented Pineapple Scotch Bonnet Hot Sauce and much more.
Bernhardt's 
From the team of Dreyfus, Bernhardt's is old school meets new school. Opening mid-pandemic to serious fanfare, we delight in this charming takeout and bottle shop that's part rustic French bistro and sometimes also, part Jewish comfort food zone.
What to order: The "Hanukkah Appetizing Box" is a great way to tick a lot of Hanukkah boxes, packed in one perfect box. You get 9 potato latkes (representing the 8 candles and 9th shamash candle), cold-smoked salmon, gribiche with trout roe, dill sour cream, apple sauce, horseradish, lemon wedges and a mixed pickle. At the same time, you can always count on their Rotisserie Chicken offerings to satisfy any holiday roasted bird cravings.
The Five Dinner Gift Box
The Five Dinner is a plant-based charity dinner series based in Toronto that typically involves 5 female chefs, popping up together to showcase each chef's background using local and seasonal Canadian ingredients. Instead of a holiday dinner pop-up this year, they have produced a gift box in support of SafeSpace and 100% of your contributions go directly there, thanks to everyone's donations of time and product.
What to order: "The Five" Holiday Gift Boxes features 15 hand-crafted items from local Toronto chefs including Fruit Compote by Chef Miriam Echeverria, Smoked "Salmon" Carrots by Chef Georgia Zimbel and Hand Pulled Candies by Chef Missy Hui, just to name a few.
Rhum Corner
Dinner and cocktail kits are made with love and atmosphere in mind when even the takeout comes with a playlist! Known for their Haitian food and lip-smacking renditions of classic cocktails (hello, first in Toronto to bring back the Pina Colada), Rhum Corner is reliably luscious and everyone should have a jar of their Pikliz in the fridge. 
What to order: Order up a Dark N Stormy Drink Kit or try the Kremas! Kit for Haitian Eggnog. Shareable favourites include Haitian Fried Chicken, the Griot Bowl, Oxtail Plate, Macaroni Au Gratin, Salt Cod & Chicken Patties and together would make a feast.
Primrose Bagel 
Hand-rolled, malt-boiled and baked fresh every day—Primrose is serious about their bagels! Holiday brunch is just as important as dinner, so let's not overlook bagels and the most important meal of the day.
What to order: 2 words: bagel platter. On the bagel platter front, you'll find 4 different ways to go. "The New Yorker" will truly satisfy all the bagel and smoked salmon cravings, while "The Primrose" gives you a bit of a splurge bagel experience with extra fixings and fish options. 
Bar Mordecai 
Nostalgic snacks and creatively classic cocktails. The kits at Bar Mordecai are a feast for the eyes and mouth—especially since some eat like a meal with cookies and edible treats as well. Plus, they just launched a red-sauce Italian food concept called Westside Maria's.
What to order: Drink kits galore! Certain kits like the Holiday Eggnog Kit and Holiday Caribbean Kit come with everything considered, and both have an alcoholic and a non-alcoholic option.
FARE by Food Dudes 
Leave it to the Food Dudes—a catering and restaurant group with a special Midas touch in events—to consider the full experience when it comes to meal kits. This is a "premium grocery & gift" delivery service and you're certainly not alone if you want this gift for yourself. 
What to order: Check out the "Experience" section of FARE by Food Dudes and you'll find that boxes come with decorative details to dress the table and even tools to make the plating exactly like their beloved restaurants (Rasa, Sara, Clay, Pantry & Blondies). "Breakfast In Bed" catches our eye, but so does a classic "Dinner Party" complete with wine, oysters, options for mains and more.
Bar Reyna & Reyna On The Rocks 
Bar Reyna offers delectable takeout with small and large Mediterranean plates while Reyna On The Rocks is good for premium cocktail kits with unique spins on the classics, made with prime ingredients and cute packaging. 
What to order: Don't miss the famous lamb baklava or falafel and sample from the full menu of fries! On the drink side, "A Russian Holiday " is one of the fun and festive kits and you can also gift a cocktail subscription, meaning a loved one or colleague would receive a monthly Reyna on the Rocks DIY box.
Alma
Warm and inviting, this Bloordale spot serves up modern Chinese food and natural wine. On top of offering snacks, small and large plates, and desserts, Alma recently started bottling up their sauces after all the much-deserved fanfare. 
What to order: For Christmas, there are the options of Chinese Ham or Five Spice Turkey Leg Roast with fixings (6 different side dishes!) and spiced apple rum cake for dessert. For New Year's Eve, there's a special Muscovy Duck Breast Dinner for 2 (scale up if you're ordering for more!) with fancy fried rice, green scallion pancakes with champagne grape sauce, a dish of cucumber, grilled onion and salted radish, plus Julia's kimchi, a plated dessert and petit fours. 
Beach Hill Smokehouse BBQ
Authentic Central Texas meats are the new chestnuts roasting on an open fire! This award-winning East end BBQ destination brings all the flavour with a focus on spice rubs, indirect heat and top quality meats. 
What to order: The Jurassic Park Cookout serves 4-6 and satisfies the holiday cravings with smoked turkey, pork ribs, brisket, sausage links, beans and potato salad. For a smaller crew, go with the Family Cookout and get a similar meal in a smaller quantity.
Chefs Catering 
From day to night, breakfast to dessert, Chefs Catering has you covered as a large yet independent catering service. With prepared meals, curated grocery and more, Chef's Catering is always customizing their menus to the times and experiences people are looking for. 
What to order: For a meal that also gives back, order from Chefs Catering's "Red Door Menu". For every meal purchased, Chef's Catering donates a meal for the women and children seeking refuge at Red Door Family Shelter. There are also special holiday menus like the classic "Festive Feast", "English Carvery", or "Surf N' Turf".
La Palma 
To dine at La Palma is to be transported. With the groovy decor and on point Italian fare, it's a mix of Venice Beach and Italy. Takeout has also always been a mainstay here thanks to the proximity to Trinity Bellwoods Park. 
What to order: The La Palma X-Mas Hamper is very La Palma-Does-Holidays. With step-by-step photos to assist, there are all the pre-prepared fixings and detailed instructions on how to prepare the raw, rosemary-trussed and ready-to-roast prime rib.
Kanto By Tita Flips 
With the Kanto concept born in the '80s and a home in Toronto since 2013, Kanto by Tita Flips has been proudly serving up Filipino street food for decades. In recent years, the Kamayan Kits have made quite a splash for the bountiful food and easy-to-share nature. 
What to order: The Original Kamayan Kit is a feast for the eyes and mouth. Served on a banana leaf, the half order comes with an assortment of meats, grilled and fresh vegetables, garlic rice, appetizers, dessert and more. There's also a new Bao Platter to try!
Montgomery's  
Local lover Montgomery's has shifted its focus from a full-time restaurant to now serve Torontonians the same quality that was served in their restaurant. With a reverence for sourcing local and direct relationships with vendors, these ingredients are now available through their online emporium and food hub. 
What to order: Give the gift of groceries and/or put your grocery shopping in Montgomery's hands with the Grassroot Holiday Box filled with grocery staples for a week. That way, all your meals over the holidays are inherently from local farmers, producers and distributors. There are also meal kits-of-the-week to snag, and a Grassroot Holiday box "The Wine & Cheese Box" with all the makings of a local wine and cheese spread. 
Pai 
The whole city of Toronto craves Pai's delicious, fresh, punchy food, made with raw ingredients flown in from Thailand. Chef Nuit Regular also just came out with a cookbook, so lucky for us we can now read these recipes AND order them at home. 
What to order: When the weather outside is frightful, a Green, Panang and/or Massaman Curry is sure to warm you right up! The Northern Thai Platter is a perfect sampler to try something new and as you're building up your holiday pantry, check out the Pai Market to order Thailand-sourced ingredients that Pai uses in their dishes.
Donna's 
Hearty, yummy lunch and dinners in Bloordale Village. You'll find their sandwiches at beloved coffee and bottle shops around the city, and now Donna's has something even more special up their sleeves for the holidays. 
What to order: Are you ready to "heat and eat"? The Donna's food lineup for the holidays includes roast duck with onion and mushroom gravy, smoked salmon rillette, marinated butter beans, a sourdough from Prairie Boy and more. With a new and different menu planned for NYE—both are open for preorder. 
Alobar 
Alo is so frequently being hailed as the best restaurant in Toronto, and even in Canada, with their thoughtful multi-course meals. And so, we look towards their sister restaurant Alobar to include this esteemed group into the holiday mix! 
What to order: Every week, Alobar puts out a different multi-course meal and this holiday season is no exception. For a limited time, there is also the "Holiday Family Feast" which caters to the favourites you might expect at a holiday or NYE dinner, like Beef Bourguignon, Clams Casino, shrimp cocktail, honey glazed carrots and more that you just know they will put their Alo spin on.
Chotto Matte
With Chotto Matte's Nikkei Cuisine, showcasing Japanese and Peruvian ingredients and technique, expect every dish to be bursting with flavour and for the visuals to never disappoint. Spanning sushi and guided multi-course menus, the fun atmosphere at the restaurant is infused into everything they do. 
What to order: The "Chotto At Home Kit" has everything for you in detailed, easy-to-follow cooking instructions with "Chotto Cook Along" videos online to help guide you through. The home kit includes 5 dishes: Padron Peppers, Choclo, Black Cod Aji Miso, Pollo Picante: Chicken and Asado De Tira: Slow-cooked BBQ beef and purple potato purée.
Maple Leaf Tavern
A tavern in every sense of the word, this East end heritage building establishment is ready to feed and imbibe you! The "To Go From The Tavern" gives you lots of choices for meals to prepare, from burgers to brunch, and they also have a bottle shop.
What to order: The MLT Christmas Feast To Go will save you tons of time coming already complete with Roast Turkey & Smoked Turkey Sausage, Winter Veg Soup, Beet & Orange Salad, Brussel Sprouts & Smashed Red Skin Potatoes, Chestnut Stuffing, Turkey Gravy & Cranberry Mustard and Sticky Toffee Pudding with Egg Nog Cream for dessert.
Miku 
Globally known for their uber-fresh offerings, Miku burst on the scene with its beautiful atmosphere and careful presentation of quality ingredients. Their flame-seared Aburi sushi is always a must-order, and they have a new holiday menu.
What to order: In true high style, Miku is offering "Holiday Bespoke Tiers"—The Deluxe Chirashi Tier comes with assorted fresh fish, 3 kinds of sashimi, Tamago, soy-glazed mushroom, broccolini and pickled lotus root in an artful presentation. Combine it with the Assorted Dessert Tray Tier and you have quite the meal.
Giulietta 
A fresh, modern spin on classic Italian meals in Dufferin Grove. These are your favourite kinds of dishes, with a very watchful eye and the occasional surprising ingredient or technique to keep things interesting. 
What to order: Giulietta's The Date Night is perfect for a 4-course option that hits all the notes of the salad course, primi pasta, meat course and dessert. Or for more shelf-stable gifts, The Holiday Box is a beautiful selection of their favourite products for keeping up an A+ pantry and/or cooking up a meal at home. 
Cote Du Boeuf
As a bespoke butcher shop and restaurant in Ossington, Cote Du Boeuf offers a takeout menu, wine to go and hosts a list of orderable grocery items. With a proven great eye for primo ingredients, this is your opportunity to create your own Butcher's Table experience home. 
What to order: The Christmas Butcher's Box includes a 6lbs Ribeye Roast with optional wine and champagne pairings with ALL the fixings. There's also a holiday menu for cook-it-yourself meat and birds, that also can include fixings and dessert should you select it all.