Summer sun means Toronto's outdoor farmers' markets are back in abundance.
There's no better way to discover the city's unique neighbourhoods, meet locals and pick up the freshest Ontario-grown produce than at a market.
Here are seven markets to discover, one for every day of the week.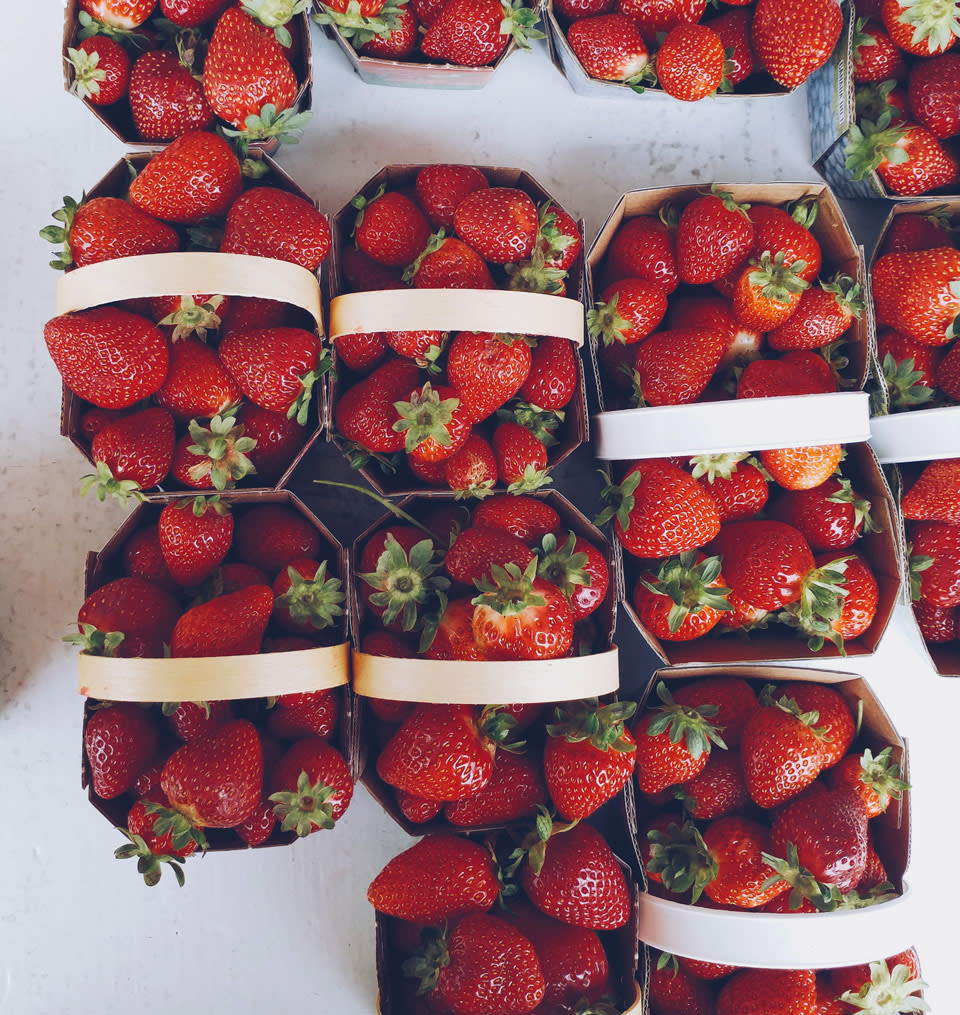 Monday: Sorauren Farmers' Market
Sorauren Park — 50 Wabash Avenue, 3:00pm until 7:00pm.
This market runs all year, but when the weather gets warm it moves outside to Sorauren Park just east of Roncesvalles Village. You'll find all sorts of produce, prepared food and other goodies. Be sure to try an Ontario shrub popsicle from Augie's Ice Pops while you stroll amongst the vendor booths.
Tuesday: Trinity Bellwoods Farmers' Market
Trinity Bellwoods Park — 790 Queen Street West, 3:00pm until 7:00pm.
Not only does this market focus on organic and sustainable food, it provides some of the best people watching in town. Find it in the northwest corner of the park by Dundas and Crawford. Make sure to try the hemp roti and fish fritters from Ali's Fish Shack.
Wednesday: Nathan Phillips Square Farmers' Market
Nathan Phillips Square — 100 Queen Street West, 8:00am until 2:00pm.
For those visiting the downtown core, this is the perfect spot to pick up a healthy lunch or fresh produce for your Toronto Island picnic lunch. There are usually food trucks serving up a variety of street eats on-site too!
Thursday: Dufferin Grove Farmers' Market
Dufferin Grove Park – 875 Dufferin Park Avenue, 3:00pm until 7:00pm.
At its summertime peak, you can find up to 30 vendors here, plus prepared food like wood-fired pizza straight from the outdoor community oven and water buffalo milk ice cream by the scoop. In August, make sure to pick up a pint (or three!) of Niagara-grown peaches.
Friday: Sherway Farmers' Market
1536 The Queensway, 8:00am until 2:00pm.
Bringing a whole new meaning to "hitting the mall," this massive market takes over the Sherway Gardens parking lot every Friday in the summer months. Check out the farmers' market for fresh produce – like sauce-ready tomatoes by the bushel, eggs, honey and prepared food at this market in Etobicoke in the west end of the city.
Saturday: Evergreen Brick Works Farmers' Market
550 Bayview Avenue, 8:00am until 1:00pm.
Find any and every locally-grown food, from lake fish to fiddleheads at the historic and scenic Brick Works. Also on site is the #FeastOn certified Local Food Court serving up prepared foods like cheesy crepes, Tibetan momos and collard green tacos, all perfectly picnic-ready.
Sunday: Leslieville Farmers' Market
Jonathan Ashbridge Park — 20 Woodward Avenue, 9:00am until 2:00pm.
Expect loads of prepared food, live music and weekly events at this super popular Sunday market. Top vendors include Bizjak Farms for cherries, Spade & Spoon for preserves, Earth + City for prepared vegan treats and strawberry lemonade, and Chocosol Traders for stone-ground chocolate!