Featured Video:
STORIES FROM THE 6IX – T.O. GLOWS SERIES FEATURING MURALIST UBER5000
"Nothing really matters, like money or status, when you're on the ice."
There's a good chance you won't know the name, Allan Ryan. That's because Ryan, one of the more prolific street artists in Toronto, is better known by his alias, Uber5000. For over a decade, he's been painting the town red — and all of the other colours of the rainbow. He laughs, "When someone new comes to Toronto, they're like, 'How did you do all of these murals!' Well, I've been here for a decade, it's been a lot of walls. It's been a steady process actually, but they don't know that."
Originally from Cape Breton, Nova Scotia, which he believes is "the most beautiful place in the world," he was nevertheless drawn to city life in Toronto. Considering how hard winter can be in his hometown, Uber5000 particularly appreciates how much of a cakewalk it is here. And with a setup like his, it really is. Even though he had to deal with high windchill, icy walls and negative temperatures, Uber5000 determinedly finished his latest mural in the most Canadian way possible: tarps, portable heater and a selection of canned goods and teas he would prepare on his Bunsen burner. It was in this modern campout that we talked about his work and his love of the city.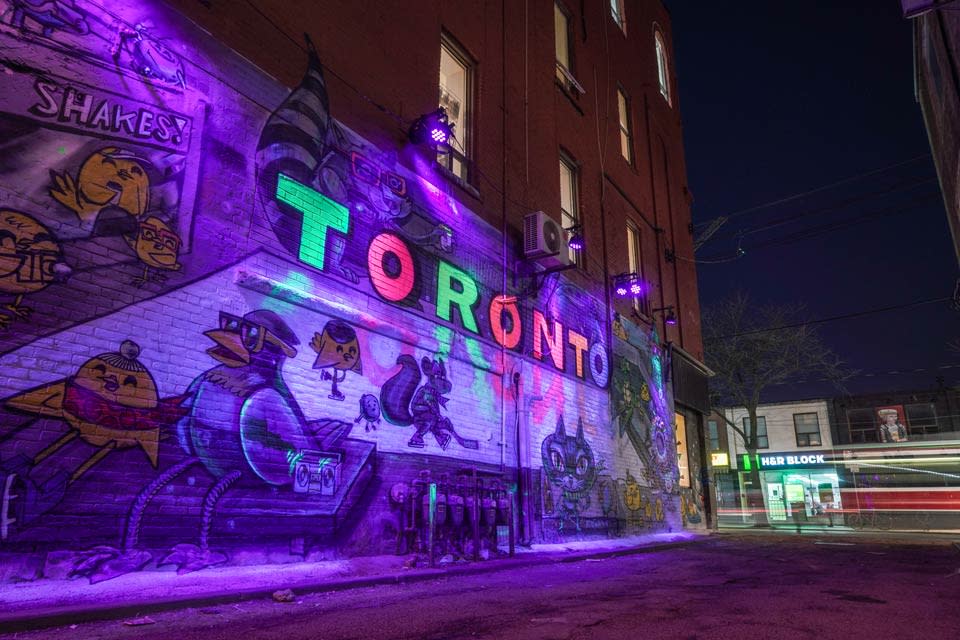 HOW HAS THE LANDSCAPE IN TORONTO CHANGED FOR YOU OVER THE LAST DECADE?
When I got here, there were a lot of people doing murals and it was a lot more self-initiated. We'd just get a wall and paint it. Now it's more accepted and people see the value of taking walls that have all this potential just sitting in the alleyway, but in the coolest parts of the city, and making them into things people can go check out and enjoy. Graffiti Alley, for instance, has hundreds of people come through. It's such a neat experience and there's no cost involved. You can just come, check it out, take all these cool photos and have fun. It's cool to see the city encouraging that.
WHAT DOES WINTER IN TORONTO REPRESENT TO YOU?
For me, winter has always been a tough time of year. I work outside, so all my work is based (planned) around the winter. Since I'm not that busy around this time of year, I have to find things to keep me busy — things I like to do in the winter. I have a dog and we go to Toronto Island all the time. When I'm not painting a mural, I go once or twice a week. It's so cool. You can go skating on the lagoons and you can get around that way. Everything is frozen so there's nobody around. You have a whole park to yourself. I love it. It's amazing to go from this major downtown core where it's so loud. Sometimes we stay until after nightfall, I'll pack a can of chilli, a hot pan and cook it on a fire. I'm a campy guy and find it neat to just cook your food on a fire. The last time I went to the Island, it was a really nice day but was still freezing. I could still walk across the lagoon but on the lakeside, it wasn't icy so I went swimming. It was mid-January. I just dunked myself in and then I got out. I didn't bring a towel so I was scraping myself off. My dog went in and I didn't want to let her down.
We get a lot of winter and I want to embrace it! If you don't enjoy it, you'll be miserable for half of the year. It's weird, but once you change your perspective, you start waiting for winter. All summer I was excited for winter.
TELL ME MORE ABOUT YOUR MURAL AND THE INSPIRATION BEHIND IT.
I had bought a pair of skates recently because I wanted to go skating on the Island and when I was thinking about great lit-up places in the city, Nathan Philips Square came to mind. Specifically, the Toronto sign, which was actually designed and built by a good friend of mine. So I thought, I'm going to do this… and I get to do this cool skating rink in front of it that also reflects light. Anyhow, I went skating there and I also noticed that there are so many different people that come here. You don't have to live downtown to skate here. Everyone comes for the experience, they come from all over. There's something about skating in front of city hall. It's people coming together, for something public. It's a very Canadian, Toronto thing to do.
I just feel that there's a genuine sense of happiness when everyone can come together from all walks of life. It's very civic, it's about the city doing something together. Nothing really matters, like money or status, when you're on the ice.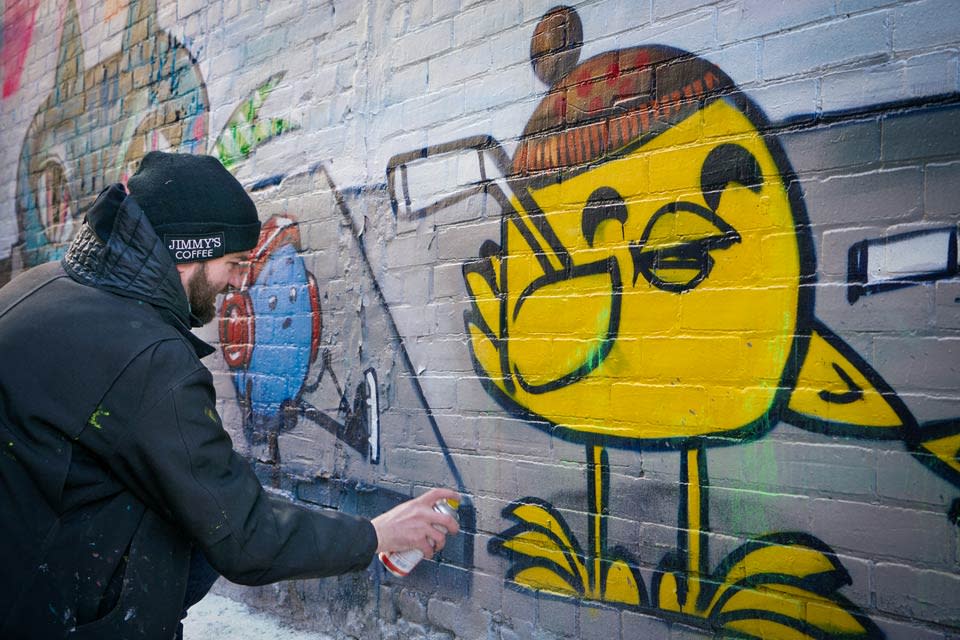 AND YOU INCORPORATED YOUR ICONIC CHICKS INTO IT! TELL ME ABOUT THEM.
They're really happy little dudes that I could do quick. I started to enjoy putting them around the city a couple years ago. They're not super deep or anything, but I'm just trying to make you smile for a minute while you walk by. If everyone smiles for a minute, that's like hours of entertainment for the whole city.
Sometimes I get emails from people and they're like, "I saw this and it turned my day around." Everyone has some hard stuff going on…say you're driving around the city all mad, trying to get from point A to B. If you could stop for a second, smile and enjoy that time, well that's your life.
WHAT'S YOUR FAVOURITE NEIGHBOURHOOD?
Toronto Island. I do love my neighbourhood, Queen West, but I love being in nature. It's nice to have the contrast. It's really intense where I live, which is great. But I love the quiet of the island, especially in winter.
WHAT SEPARATES TORONTO FROM OTHER MAJOR CITIES?
Toronto just seems like a major Canadian city for projects and business. I get to do a lot of work here. I like living in Canada, I love being surrounded by nature. If I lived in New York, I don't know how I'd be able to access something similar to Toronto Island. Not to mention the cost of accessing nature. Here, I can still get out of the city core to another place that feels completely separate. And all it takes is a short walk and a shorter boat ride.
See his mural at 489 Queen Street West.