Featured Video:
STORIES FROM THE 6IX – T.O. GLOWS SERIES FEATURING MURAL ARTIST EMMANUEL JARUS
"You can get on the bus and there's literally everyone from any place in the world on it."
It's not every day that you get to meet a modern nomad. Emmanuel Jarus, a.k.a. Young Jarus grew up in Saskatoon and calls Toronto his home base, but more often than not he can be found in other parts of the world leaving incredible murals in his wake. By staying on the road, he's constantly finding new inspiration for his work.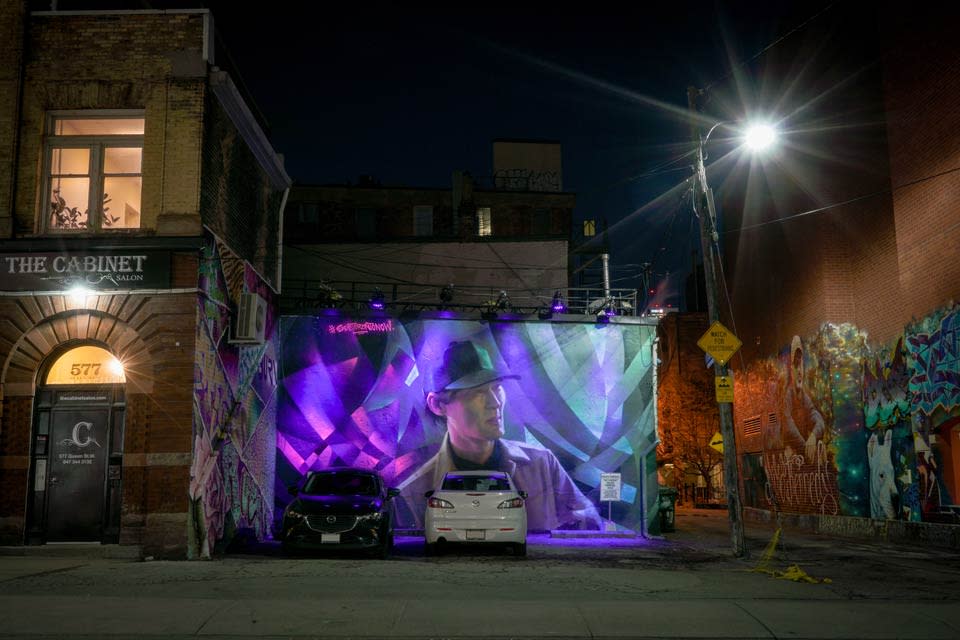 Yet his incredible artistic journey kicked off with humble beginnings, "I got into painting pretty young because my grandma was a painter." That soon escalated when he transitioned into painting freight trains, which were particularly accessible in Saskatchewan. "I started painting portraits and figures on these trains and I was kind of the first that did that, specifically on my scale. So my work went viral on sites like Flickr and Reddit."
It didn't take long for him to move to Toronto. "A bunch of people had already seen what I had done through the Internet and then invited me to do a little bit of work here." It took even less time for the emails about travelling and painting to start rolling in. Nevertheless, he says "There are still so many places I've yet to go and want to get to, but I also go wherever work sort of takes me." That said, he still considers Toronto home and it's where most of his work is done.
WHAT'S SPECIAL ABOUT TORONTO IN THE WINTER?
That question reminds me of when I first lived in Toronto because I actually stayed through the winter a lot. I find that it's a time to really reevaluate what you're doing for the next year. Unlike some places where there's perfect weather all year, you have time to sit back and think. You're like, "OK, I'm going to get into shape next year." It really allows you to shift what your approach for the next season is.
And when it comes to painting, it works the same way. You have to paint inside, contrary to this wall I just finished. For the most part, you're not painting outside in the winter so you reevaluate how you're going to paint outside in the summer. It's a really introspective period.
And it is for me even now when I'm travelling around the world during the winter because it's still off-season.
HOW DID YOUR MURAL TAKE SHAPE? WHAT DOES IT MEAN TO YOU?
I choose people that are appropriate for a space. This happens to be a portrait of a friend of mine that was born and raised in Toronto and has been painting in that area for a long time. He was one of the people who were into it when I first started meeting people in Toronto, and I thought he'd be an appropriate person to paint because he's the type of person that would be coming around that area pretty often on a day-to-day basis. He's in the city all the time and often downtown.
I also know that he really wanted me to paint him. I did a drawing of him a long time ago and he was super about it so I thought it'd be funny not to tell him. Normally I would… but he came by. In two days, he found out because a lot of his friends were going by there as well so it's obvious that it's him. He's a very recognizable character. And to me, he represents that area.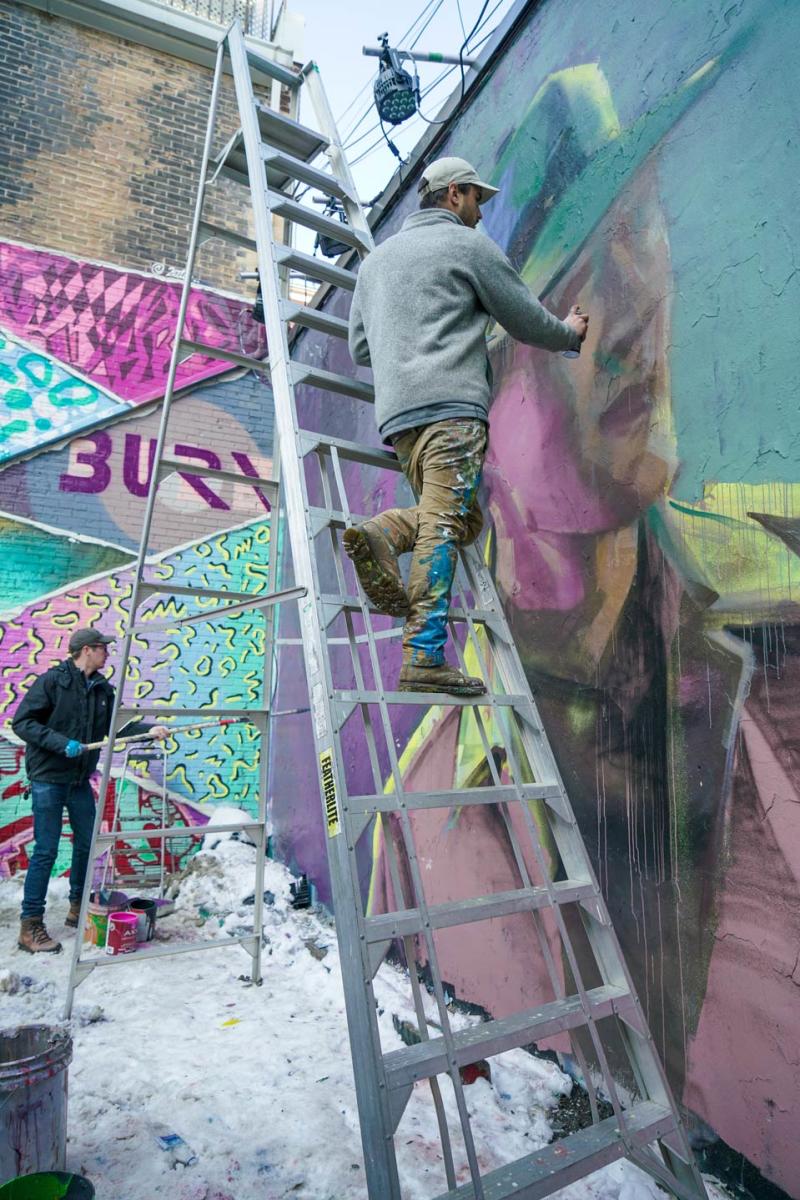 WHY DO YOU GRAVITATE TOWARDS PORTRAITS?
I like painting figures that I see in life and then putting them through my own filter. It's realistic and represents what I'm seeing, but it's also done using my own techniques. It gets geometric and prismatic. I really enjoy that process. I enjoyed painting from life before I started painting in public. So even though I'm not painting these portraits from life anymore, I'm still painting a subject I know well. That helps me not get bored when I'm working on a wall, it brings a constant inspiration. And I paint people because it is a source of entertainment the whole time, from the memories to their reactions once it's done.
WHAT ARE YOUR FAVOURITE NIGHTTIME SPOTS IN THE CITY?
I spend a lot of time in the west end. I like life-drawing at the Gladstone Hotel in the evenings. Last night I was at the Drake because there was some live music playing. It might sound a bit basic for locals, but I actually really like those spots especially after being away travelling. I also love the Opera House; it's one of the best concert venues in the city.
YOU TRAVEL THE WORLD TO FIND INSPIRATION FOR YOUR WORK. WHERE DO YOU FIND INSPIRATION IN TORONTO?
I find the whole Regent Park and Scarborough areas really interesting to me. I did a mural in Teesdale last year and it's so interesting to be in a place with so many different races of immigrant families all living in this North American setup. It's very unique to Toronto.
When I first came to Toronto, I lived in the Annex. That area's amazing to me as far as the uniqueness of the buildings. There's this North American vibe on Victorian architecture. I lived on Madison and Dupont for awhile, which has great restaurants. Rose and Sons is there, Ezra's Pound has great coffee and there's a diner, Vesta Lunch, that's been there forever and is awesome.
I also like Parkdale. My friend has a studio there so I was staying there a lot and painting. It's a very transitional area. I'm really interested in areas that are changing. There's just so much stuff happening all the time. My studio's in the Junction, and it's changed a lot in the last five years.
WHAT IS IT ABOUT TORONTO THAT SEPARATES IT FROM OTHER CITIES YOU'VE TRAVELLED TO?
For me, Toronto is very diverse in the sense that it kind of has the infrastructure of an American city but it's Canadian. So it's a real international level city that has Canadians living in it…which is actually the most diverse group of different cultures. In Toronto, you can get on the bus and there's literally everyone from any place in the world on it. I think that's unique to Toronto. Even though every place in the world deals with racism, it's iconically one of the most tolerant places in the world, which allows for a lot of benefits like good food from different places in the world and a good life.
DO YOU FIND THAT TORONTO IS MAKING A NAME FOR ITSELF IN THE WORLD AND THAT YOU'RE ABLE TO REPRESENT YOUR CITY?
I think Toronto really is a place that you can base yourself out of instead of being in LA or New York. There are so many good artists living here and Toronto is definitely on the world stage right now. It's given me the opportunity to foster my skills. And it's inspired me to travel. I was able to do something successful here and it gave me the motivation to travel further. I've continued to base myself here because it's been such a good city to me.
When I travel I realize all the greatest things about Toronto because I don't have these things that I took for granted when I was here.
See his mural at 162 Portland Street.