Featured Video:
T.O. GLOWS SERIES FEATURING ARTIST & DESIGNER BEN JOHNSTON
"Toronto has a very relaxed nature, yet there's still this hustle."
As soon as you speak to Ben Johnston, you might get a sneaking suspicion he's not from around here. It could be his chill, beach-like attitude, or it could be his South African accent. But that doesn't mean he's not tapped into Toronto and everything it has to offer. He left the beautiful beach city of Cape Town for a reason, observing, "There's more of a hustle here, but not too much. There's this culture of people just having a good life and doing their thing."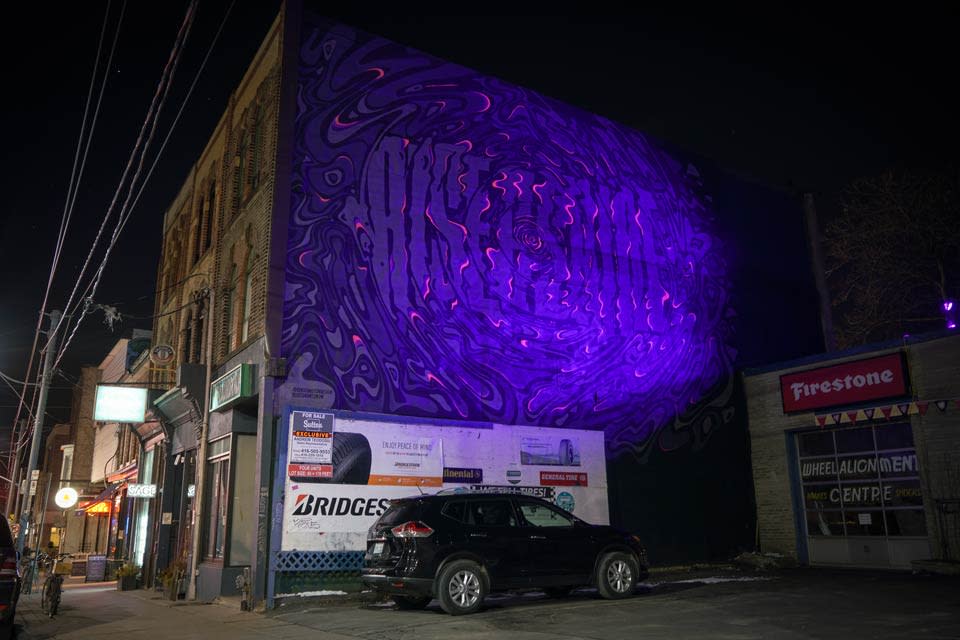 This positive outlook on the city's hustle is embodied in his typographic style. "I find a lot of people might not understand graffiti and certain images, but they understand words. That's where I find success sometimes because even if they don't understand technically how complicated the artwork is, they can understand the wording — which is meant to be motivating. Of course, a lot of it is ambiguous so it can mean something different to each person."
Over the few years he's been living in the downtown core, Johnston has managed to leave a trail of inspiring quotes and messages around the city, bringing attention to parts that would have gone under the radar otherwise. Although he concentrates mostly on the west end right now, his immediate goal is to explore even more unexpected areas. He says, "I want to put my work in random places not because I'm painting to be cool or for it to be in a cool area, but because it's making an impact on that area and for the people living there."
TORONTO HAS BEEN KNOWN AS THE SCREWFACE CAPITAL, BUT NOW YOU CAN SEE IT'S A COMMUNITY THAT UPLIFTS EACH OTHER AND WORKS TOGETHER. HOW DOES COLLABORATING WITH LOCAL AND INTERNATIONAL ARTISTS TIE INTO THE CITY ITSELF?
People that are coming in from different places love it here. It's a pretty interesting community, it's very supportive.
But, for me personally, the idea is to explore the east end more. I just live in such a little bubble on the west side. I want to get out of that real quick. I know some people there now and there's just so much cool stuff happening there. I think the idea is to start injecting art and some life on the east end.
I've even started chatting with Allan and Jarus about collabs. We were briefly thinking of going up to a farm area and painting big silos. There's just so much potential and untouched stuff in Canada because populations are smaller. It's not as dense as your LAs or wherever. It's definitely a place where a lot of people are realizing you don't have to leave anymore to make it. You can make it here, just like you can in New York.
If it was 20 years ago, that's different, but now you can do anything here you can do anywhere else. There's so much more space to work with. And it's very chill here, which makes it easier to come up with new things and be really creative. It allows for good thinking time. Toronto has a very relaxed nature, yet there's still this hustle.
That's also what my mural means to me. "Rise and shine," everyone is helping everyone else rise up and shine.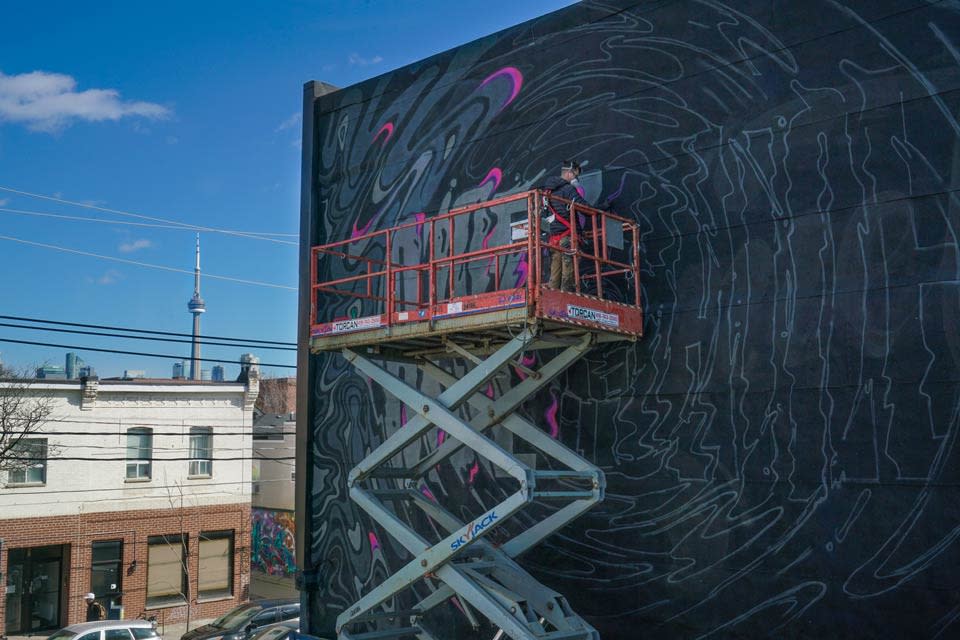 I love discovering new restaurants or little live music venues — holes in the wall. Sometimes those are the best. You speak to enough people and you'll find them.
One of the best music venues is in a basement. You wouldn't know that unless someone were to tell you. It's just different here. People are way nicer and I think it's directly to do with the weather. Even work-wise, it's a very strong, very small community of street art people. Here, you have other artists helping you get walls whereas elsewhere they're like, "No, that's mine."
That's the thing about Toronto, everyone's helping each other here. Whether it's art or just in general — and I think that's the thing with the cold — everyone's helping each other and becoming a stronger community because of it. You're all in this thing together and then you're trying to give suggestions to get through it.
WHAT ARE YOUR FAVOURITE NIGHTTIME SPOTS IN TORONTO?
College Street for food at the moment. Anything from Bar Raval to Dailo and then Pinky's. The guys who own Pinky's also own Odd Seoul and Hanmoto. I love Asian food in general, which is great in Toronto. Then good fast spots, ramen spots, which there are no shortages here. For music venues, you have The Rex. And different places have live blues and whatever on different nights. There are always new ones popping up.
WHAT'S YOUR FAVOURITE TORONTO NEIGHBOURHOOD?
I would say the west end for lack of exploring other areas. I've only ever lived this side. But more like Dundas West and College. The Junction is amazing as well. Then, there's the Bloordale Village that is its own community as well. The thing about Toronto is that it's very accessible at any time of the year. You can jump on a streetcar and you're in a completely new area for three bucks.
WHAT'S ONE MUST-DO YOU WOULD RECOMMEND TO VISITORS IN THE WINTER?
I'd probably pick a walking route. Like a 5k circuit. Maybe start by going up Spadina, hit Chinatown and go through Kensington to grab some coffee and bites. Then walk your way west. There are some art galleries along Dundas or College. There are some cool Toronto-made boutique stores as well. Walk through the Trinity Bellwoods, hit up Sam James.
You can do a nice art walk and eat cool foods while dipping in and out when you're cold. If you go a bit further, there can be comedy or music at The Drake. There are cool things every night of the week.
See his mural at 146 Ossington Avenue.