Toronto may be a resolutely modern metropolis, but it's also home to artisans and designers who work the old-fashioned way. Here are five local makers who prove the secret to quality rests in mantras like one-of-a-kind, small batch and custom.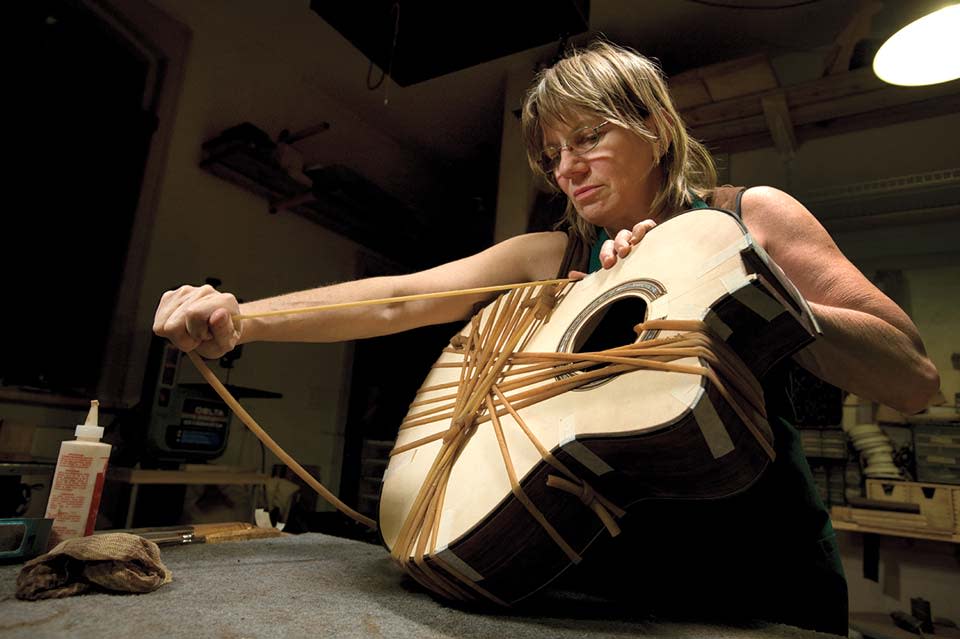 Manzer Guitars
Aformer folk singer, Linda Manzer is renowned for her one-of-a-kind guitars, the preferred choice of Carlos Santana, Pat Metheny and Bruce Cockburn. Manzer hand-constructs each instrument using the finest materials, including aged rosewood, curly maple and ebony.
Maker's remark: "After seeing Joni Mitchell play a dulcimer at the Mariposa folk festival on the Toronto Islands in 1968, I became interested in making musical instruments. When I first strummed a dulcimer I'd assembled myself, I was shocked at the sublime joy I felt—it was like I'd given life to something inanimate." –Linda Manzer
Abel Muñoz
The darling of Vogue Italia, Muñoz's shoe collections are designed here and handmade in Italy. His style footprint? Impeccable workmanship and attention to detail.
Maker's remark: "What I love about designing shoes is the combination of both the creative and the technical. Turning a concept into a wearable, finished product is amazing." –Abel Muñoz
Rekindle
Rekindle design studio uses high-quality local materials— mostly wood, like walnut and maple—to produce heirlooms in the making.
Maker's remark: "We're passionate about domestic woods—each is so different and comes with its own set of challenges and opportunities. We love that it supports the local economy and is harvested in a sustainable way." –Devin Schaffner, co-founder
GUILD Eyewear
At GUILD, handcrafted comes with serious sartorial cred. Frames are designed by local artists, and are milled, tumbled, polished and assembled by hand. Result: Fierce looks like the femme fatale Bardots or the Iris Apfel–worthy Royals.
Maker's remark: "Being a small, local manufacturer enables us to have an undiluted design vision. It's just the designer and the person they are designing for." –Rod Fitzsimmons Frey, founder
Brothers Dressler
Furniture makers (and twin brothers) Lars and Jason Dressler create sustainably bespoke pieces, including wooden chandeliers. Crafted with discarded extras from local mills and salvaged city trees, they are simultaneously rustic and upscale.
Maker's remark: "Crafting by hand allows us to explore the creative potential of the wood, to take the time to bring out its beauty and usefulness." –Lars Dressler, co-founder