Celebrate Family Day with these entertaining and safe activities.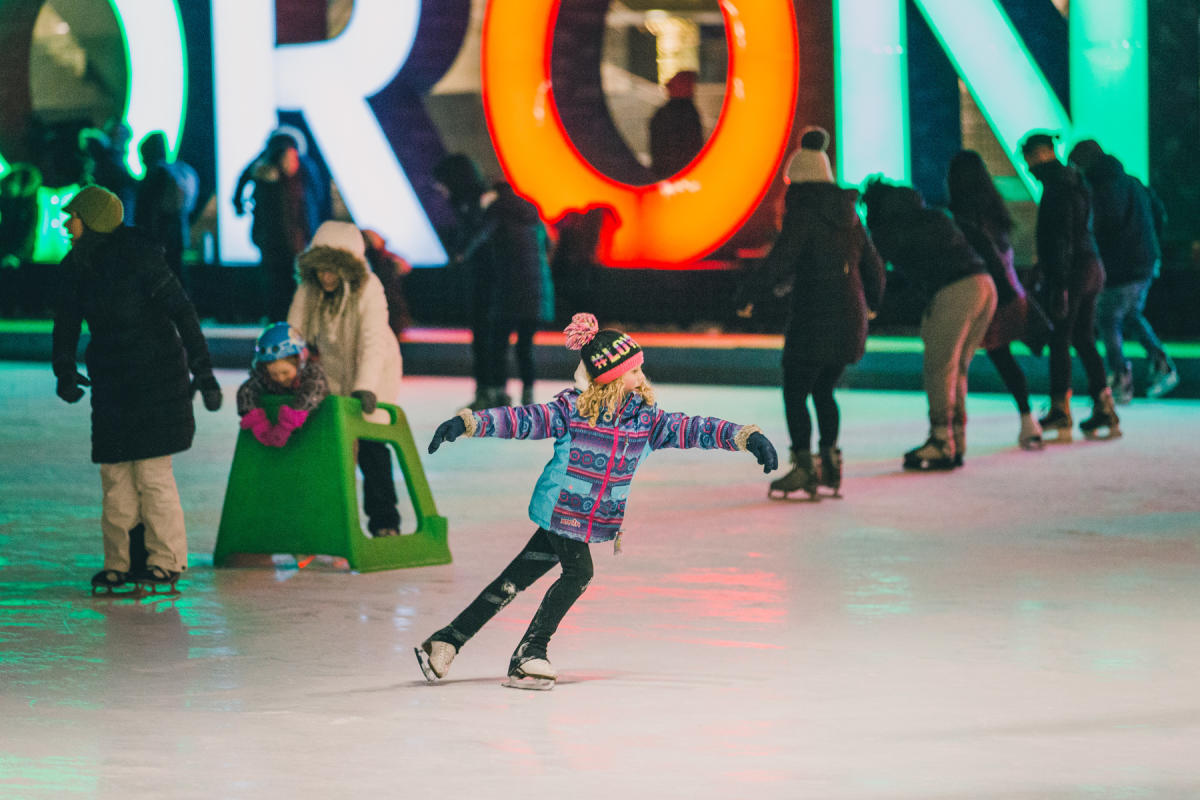 With the long weekend ahead it's a solid excuse to start planning your Family Day adventures. Keeping in mind that we're still in a pandemic during winter no doubt, there are still lots of creative ways to entertain yourself (and your household) on your day off. Safely, of course.
Whether you're an outdoorsy type who lives in their snowsuit or a homebody who's tired of watching Netflix, we've gathered an eclectic list of Toronto-centric activities to make the most of your Family Day. Enjoy!
Embrace Family Day like a true Canadian.
That snowsuit we mentioned earlier? You may need it. Especially if you're propelling yourself, or your kids, down a snowy hill at full speed. Tobogganing is having its moment right now, with over 20 toboggan hills in and around Toronto. Remember to always practice physical distancing, even while sledding, and to make sure hill conditions are ideal.
Alternatively, another active way to spend Family Day—Canadian-style—is to skate one of Toronto's 54 skating rinks. As a measure to avoid overcrowding, you need to book your spot online first. Luckily, like tobogganing hills, Toronto rinks aren't lacking so you're more than likely to find a spot somewhere.
Celebrate Black History Month.
Black History Month is here and with that comes an exciting lineup of entertainment that celebrates Black creativity.
Kick back with the 26th edition of Kuumba, Toronto's Black History Month festival. Stream musical performances, explore virtual exhibits, and listen to local stories—all free and from the warmth of your living room.
Turn off Netflix and turn on the Toronto Black Film Festival (TBFF), featuring 154 films from 25 countries. This year's 9th edition of TBFF continues to promote independent films that spotlight Black voices and experiences from around the world. Buy your tickets and passes online.
"What is the future of Blackness?" Find out with 21 Black Futures. Presented by Toronto's Obsidian Theatre, the future of blackness unfolds through 21 theatrical performances from a Canadian, all-Black cast and crew. It premieres exclusively on the free streaming service, CBC Gem.
Browse a waterfront art exhibit.
These days, outdoor art is all around us. Portraits in COVID Times is an ongoing photography exhibit that's not only free, but accessible 24/7. Find the exhibit on the façade of Harbourfront Centre's Main Building, displaying works that captured life during the pandemic. The large-scale photos were taken between March and October 2020, covering topics like family, work, culture, relationships, religion and more.
Binge-watch Canadian films.
Planning toward a lazy Family Day? Stay inside and stay cozy with a Canadian film extravaganza. Cineplex's online streaming service now has an entire section of films featuring or made by Canadian talent. Amplify your in-house theatre experience by ordering in your favourite eats.
Take a poetic neighbourhood stroll.
If you're looking for a different alternative to your daily walking route, StrollTO offers free self-guided neighbourhood tours across Toronto. Keep your eyes peeled for poetic, text-based art courtesy of Poems for Your Path. Created by local artists, these poetic neighbourhood installations convey messages of strength, hope and resilience—something we all need right now.
Consider complementing your stroll with a Soundtracks of the City playlist. Each neighbourhood has its own playlist, with songs by both global and Canadian artists with strong ties to Toronto neighbourhoods and communities.
Indulge in a romantic staycation.
Let your Valentine's Day romance spill into your Family Day—and every other day, as it should! Sheraton Parkway Toronto North Hotel & Suites is currently offering a Romantic Dinner & Stay Package for Two. The package includes a private 3-course dinner, courtesy of Crave Restaurant, served in your candlelit room. We're all for romance and late checkouts.
Spend Family Day with Beethoven.  
Fill your home with the classical sounds of Beethoven's Septet, performed by the Toronto Symphony Orchestra. TSO On Demand brings this visual and acoustic experience your way, so you can travel back to the 1800s, even if just for an hour. Purchase Beethoven's Septet and past TSO concerts here. 
Hot tip: pair your concert viewing with a delicious cocktail kit, delivered right to your door.
Enjoy a made-in-Toronto rom-com.
With Valentine's Day just barely over, Family Day is a great time to indulge in fictional love dramas. Especially when they revolve around Toronto's dating scene during a pandemic. No, really. Stock up on snacks (i.e. discounted Valentine candy) and get lost in the quirks of complicated love. February: A Love Story is a 45-minute rom-com, showcasing the complex dating world of single millennials during COVID. Because dating wasn't hard already, right?  
Add an extra member to your household.
If the conditions are right, head to one of Toronto's parks and flex your snowman building skills. It's Family Day after all and a "person" completely made of snow is the safest addition to your household—for now, until it's safe to hang out with real people again. Plus, snowmen are immune to COVID, as far as we know.Don't forget to share your snowperson on Instagram and hashtag #SeeTorontoNow so we can see them too!