Layer up and let Toronto show you what winter in the city has to offer — all without spending a penny!
Here in Toronto 'We the North' aren't the type to hibernate and hygge until spring returns. The city is alive (despite the deep freeze) with things to see and places to go, all of which embrace the winter wonderland vibe, indoors or out.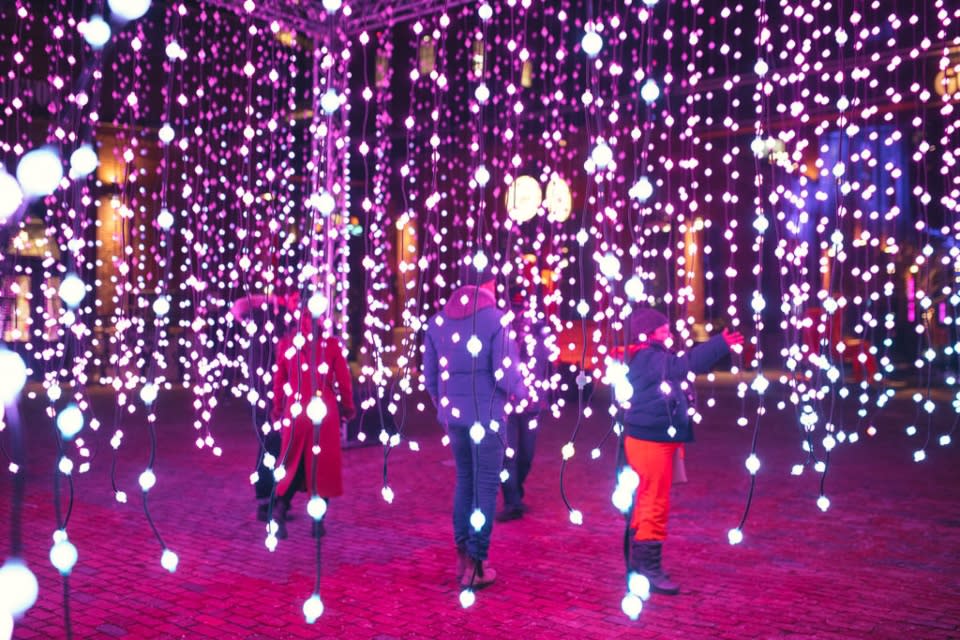 On January 17 Toronto's Distillery district flips the switch to ON and lights up its cobblestone streets for the annual arts festival. Running until March 1, #TOLightFest will warm even the most cold-averse visitor with its artsy, bright take on winter fun.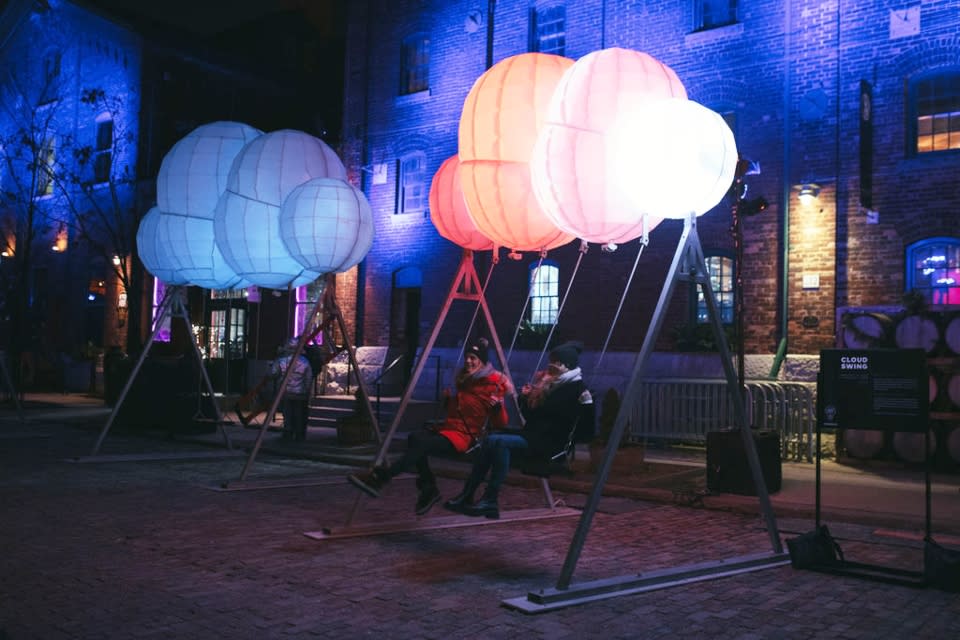 Glide under the Gardiner Expressway along the Bentway Trail with views of Toronto's impressive skyline in the background. The kilometre-long skating path is popular with locals thanks to its adorable winter village (yes, they have hot chocolate) and free skating lessons. The path stays open until February 17.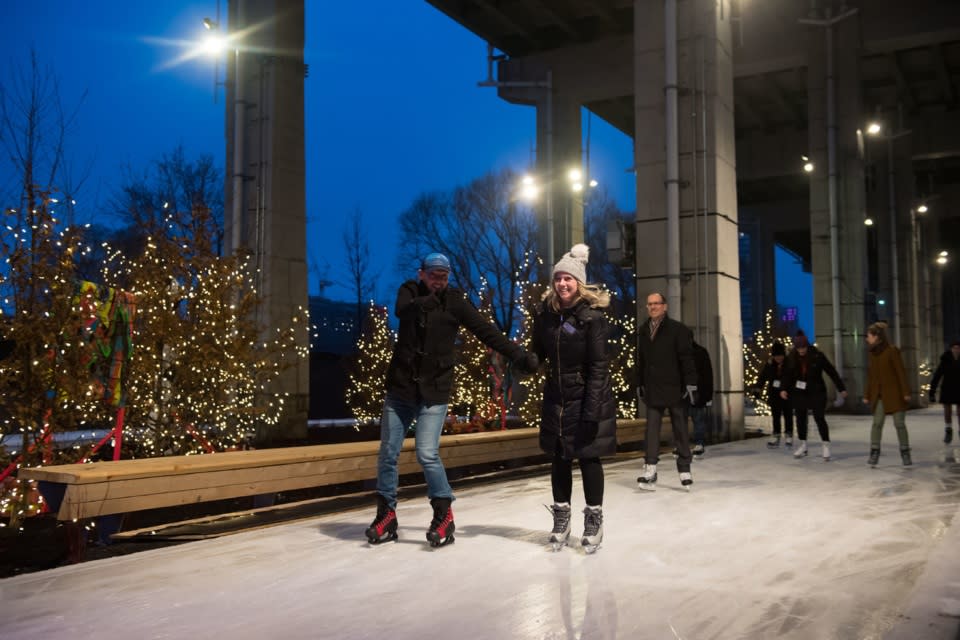 3. Check out the very cool LOOP installations at York Street Park
On display until February 9th, these funky machines light up and play music as you and your friends work the hand lever.
4. Take a tropical time-out at Allan Gardens.
The Gardens' six botanical greenhouses will take visitors through a paradise of palm forests, along cactus-lined paths, among towering, delicate orchids, and up close to exotic plants of all kinds. Open every day from 10 am to 5 pm.
5. See the AGO's extensive collections for nothing.
Every Wednesday evening from 6 to 9 pm the Art Gallery of Ontario opens its doors and closes its cash registers. Wander through the AGO's permanent collections to take in work by renowned photographers, sculptors, and painters like Canada's legendary Group of Seven.
6. Delve into the downtown creative scene at Design TO.
With a packed schedule that runs for a week in mid-January, the Design TO Festival offers 100+ design-driven exhibits on topics ranging from technology to textiles. Check out the site to see which events and exhibits are free.
7. Catch a serious sugar high at the Sugar Beach Sugar Shack.
Unlike in warmer parts of the world, March still means winter in Toronto — but we don't let that get us down. For a dose of something sweet, Torontonians hit up the iconic Sugar Beach for a fest that celebrates maple syrup with games, live music, tastings, and more.
8. Rub elbows with literary celebrities at the Reference Library.
The Toronto Public Library hosts free talks and signings with the biggest names in books at their downtown location, the Reference Library. (Attention sports fans: the TPL's list of upcoming authors includes hockey legend Ken Dryden.)
9. Experience Toronto-specific time travel at the Scarborough Museum.
Jump back several centuries to 1790s Scarborough to see how early settlers of the area lived. The museum is made up of four sites — the farmhouse, a traditional 1850's log house, a gallery, and an old carriage works stocked with artisan's tools. Outdoorsy types will love the surrounding property and trails in Thompson Memorial Park.
10. Be wowed by the Aga Khan.
Both indoors and out, the Fumihiko Maki-designed Aga Khan Museum is a spectacular, must-see spot in Toronto. Free every Wednesday evening from 4 pm to 8 pm, the Aga Khan's permanent collection includes millenium-old Middle Eastern art while the second floor visiting exhibitions are typically modern.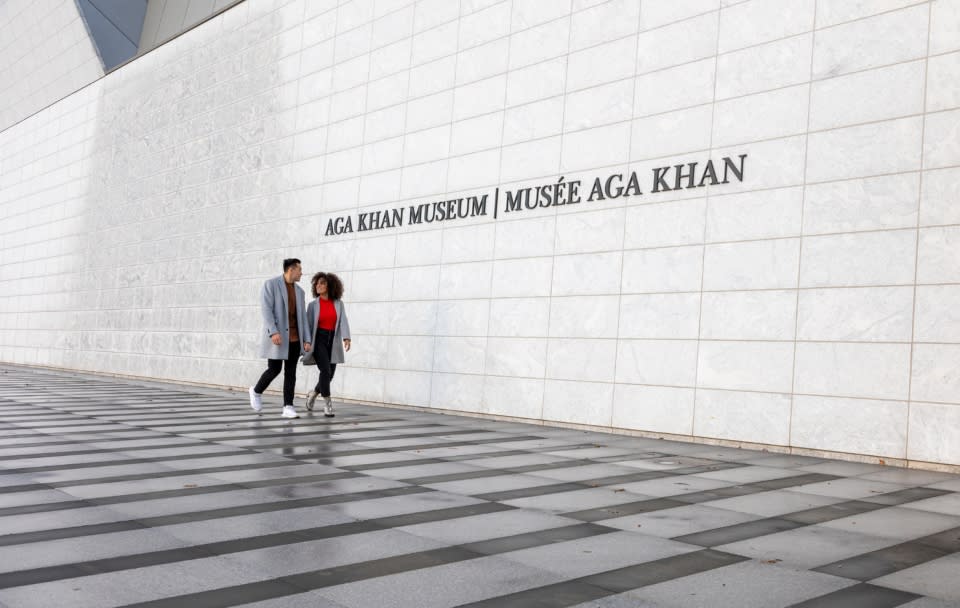 11. Winter hike 'til your heart's content in Rouge Park.
Rouge National Urban Park is a true Toronto gem no matter what season you visit. The park encompasses farmland, camping grounds, lakeshore, and Indigenous sites woven through with trails for hiking and dog-walking. The park's 13 trails offer a variety of sights and intensity levels for every hiker.
The COC's series of free concerts runs from September all the way through to May inside their beautiful glass amphitheater with views of downtown Toronto. The free shows typically happen midweek at noon and seats are first-come, first-served — so the early bird gets the aria.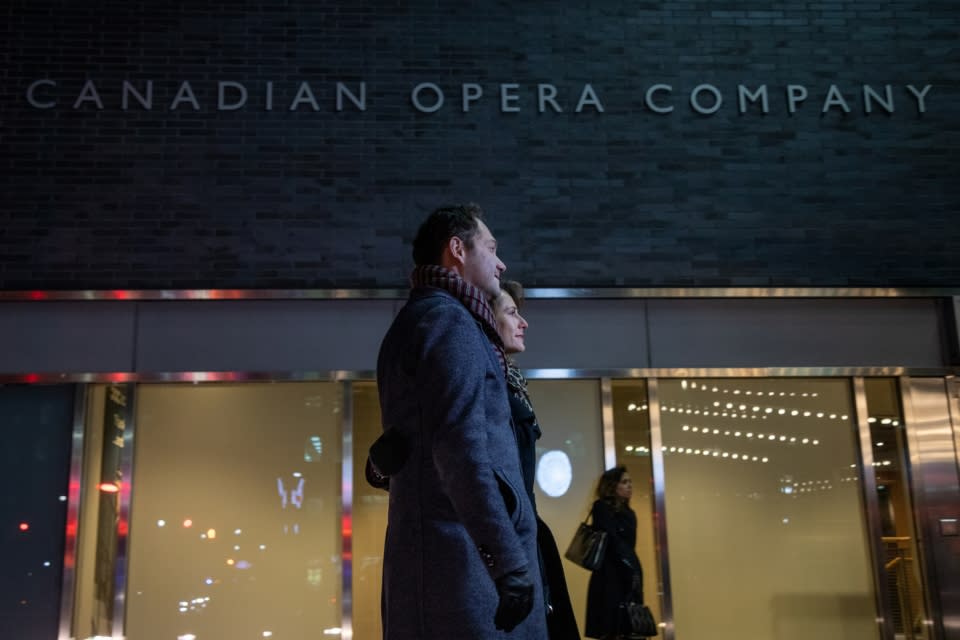 The residential streets of Toronto are home to something truly special: tiny wooden structures stocked with books free for the taking! These Little Free Libraries are everywhere but bookworms will hit the jackpot in neighbourhoods like The Junction, Dufferin Grove, and Roncesvalles.
Take advantage of one of the city's pre-planned walking routes to check out Toronto's architectural, cultural, and natural highlights without having to do dozens of Google searches. Some self-guided walks include stories about historic Toronto as well as then-and-now photos, all available through a free app.
15. Stretch it out for free at Meridian Hall
The performing arts centre is holding free lunch-hour yoga classes all January long, every Tuesday and Thursday. Teachers from the Danforth's Modo Yoga will lead the hour-long classes. Yogis can register in advance or grab one of the 15 reserved drop-in spots.
16. Do it for the 'gram at the Toronto sign.
Lights, skaters, ambiance! The now-famous sign at Nathan Phillips Square should be on every Toronto visitor's itinerary — it's the photo to take in TO.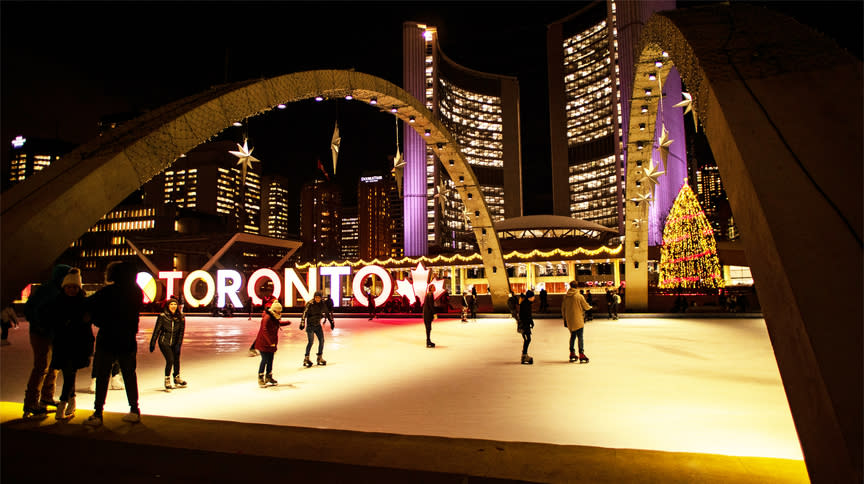 17. Dive into Don Valley wilderness at Evergreen Brick Works.
For those looking for something less intense than a traditional hike but still want to get out into the wilderness, the Brick Works offers a balance of park space, outdoor art, and wooded trails. The free skating rink is a beautiful must-see along with the Saturday farmers market, too.
18. Learn to ice dance at Harbourfront Centre.
The Harbourfront's lakeside ice rink is where you'll find free DJ Skate Nights every Saturday from 8 pm until 11 pm. Local music legends will spin records while skaters spin around the ice at the best winter party in Toronto.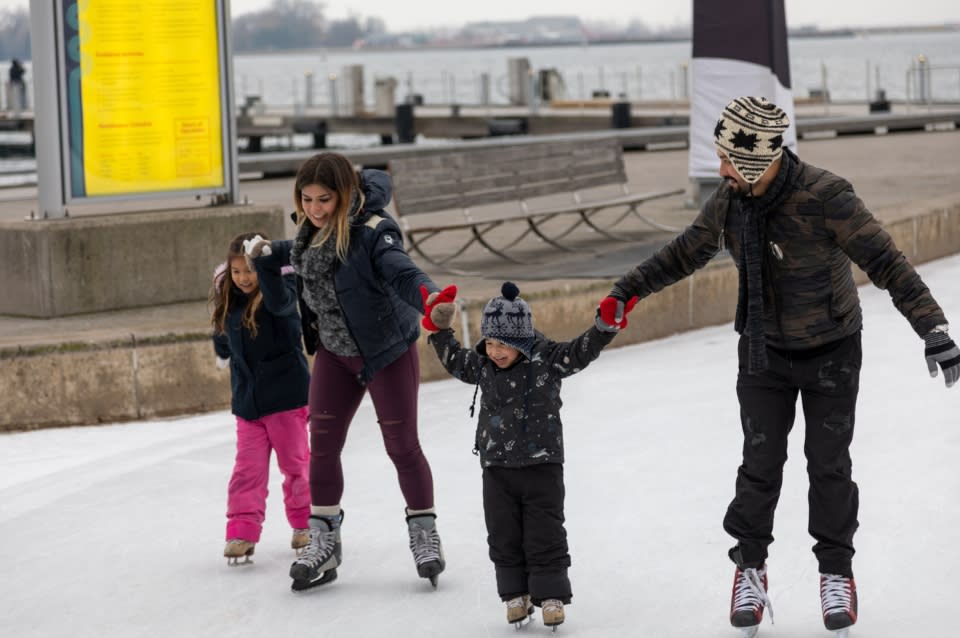 19. Get a taste of Toronto's history at St. Lawrence Market.
Since 1803 St. Lawrence Market has been serving visitors the best in produce, deli, baked goods, and (most importantly) cheese. Wander the packed aisles to sample some of the wares offered at the market before checking out the cultural exhibits on the second level.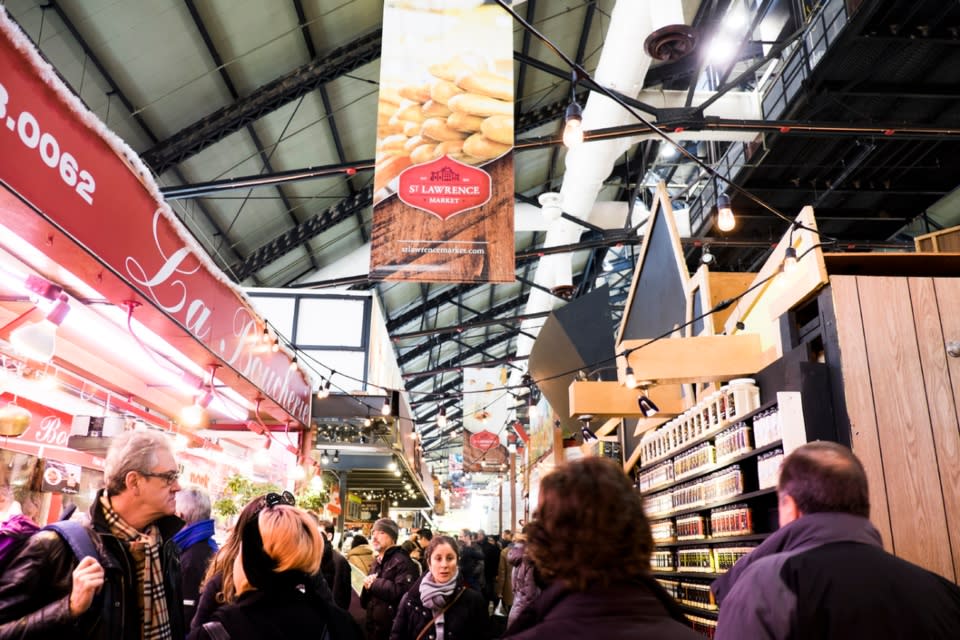 20. Meet the capybaras at the High Park zoo
Canada's oldest zoo is home to some animal celebrities. Nicknamed Bonnie and Clyde, a pair of South American capybaras who live there are notorious escape artists, having slipped out of their pens and into the wider park several times, causing a media uproar. See them and the other zoo residents between 7 am and dusk every day.
21. Go for a street art stroll along Graffiti Alley
Beginning at the intersection of Rush Lane and Portland Street, Graffiti Alley spans two full city blocks where each inch of wall space is occupied by works by Toronto's street art community. It's a free, colour-rich feast for your eyes — and camera.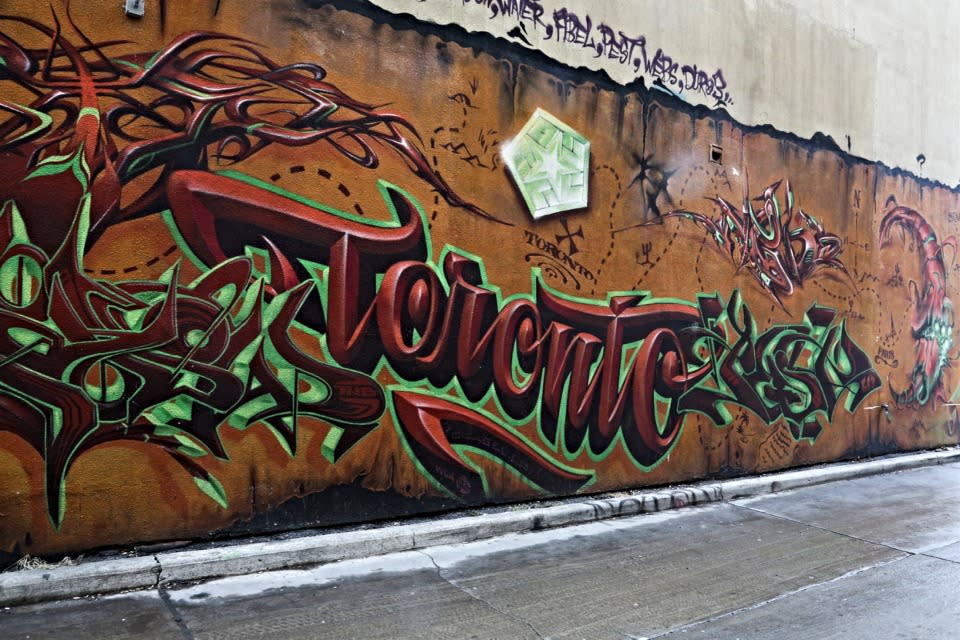 22. Go sledding in Christie Pits Park
Every time Toronto gets a dose of snow, sledders grab their toboggans (or magic carpets or snow tubes) and head to one of the city's hills. Among the best is the steep and thrilling incline at Christie Pits, which terminates safely in the park's bowl-shaped centre.
23. People watch in Kensington Market
A mix of cheese shops, produce stands, tattoo parlours, vintage boutiques, bars and restaurants, Toronto's most unique neighbourhood is a prime spot for people-watching as it teems with both locals and tourists every day of the week.
24. Book a Beach day in February (yes, actually)
From mid-February until the end of March, the Beaches Winter Stations set up at Woodbine Beach in the east end of Toronto. This year's theme is 'Beyond The Five Senses' and is guaranteed to move you, make you think, and overload your Instagram feed.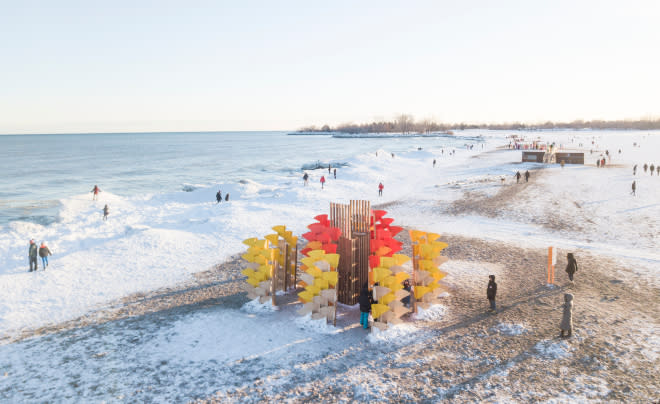 25. See the stunning Scarborough Bluffs
You know the wall in Game of Thrones? Yeah, Toronto has that. Head to Bluffer's Park to be winter wowed by these incredible geological formations that run for 15 km along the shore of Lake Ontario. It's a serious mood.
26. Hang out with the animals at Riverdale Farm
Open 365 days of the year from 9 am until 5 pm, there's so much to do and see at Riverdale Farm. Visit horses in the paddock, gaze at the grazing cows, or wander past the wood oven to see what's cooking.
27. Walk along the William G. Davis Trail
Gaze up at the city's skyline from the William G. Davis Trail in Trillium Park. The trail traces the edge of Lake Ontario where the snow piles up atop frozen winter waves making for a great photo op.
28. Do it all at The Power Plant
You can't miss the old smokestack announcing the location of this free public gallery that actually used to be a Power Plant (clever, right?). The Queen's Quay art space is home to rotating exhibits of contemporary art, artist talks, children's activities, and (best of all) some killer parties.